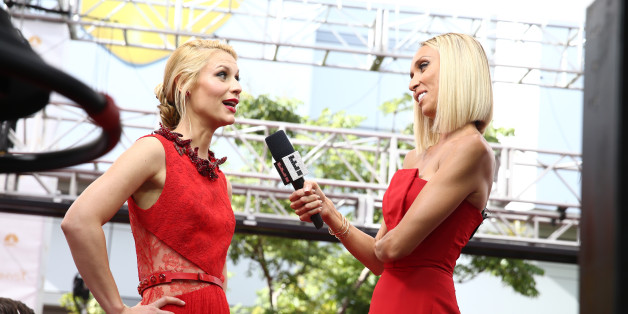 No matter how accomplished a female celebrity is, it's almost guaranteed that her red carpet interviews will prioritize the topic of her fashion choices over her career.
#AskHerMore, a hashtag started by The Representation Project, wants to change that.
The campaign launched in February of this year, and took off at last night's 2014 Emmy Awards when Twitter users shared the types of questions they'd like to hear stars answer on the red carpet, tagged with #AskHerMore. Women on the red carpet were consistently asked about their dresses and personal lives, while men were given more substantial questions.
Ross Matthews from E! News asked Kerry Washington about losing her "baby weight" after giving birth to her daughter four months ago. Giuliana Rancic asked Sofia Vergara where her boyfriend was, and how she maintains her figure. Natasha Lyonne got asked who she was texting, Laverne Cox was asked who she got ready with, and everyone was much more interested in Hayden Panettiere's pregnancy cravings than her acting.
Conversely, Matthew McConaughey was asked about his childhood role model, Aaron Paul chatted about his first job in Hollywood and Kevin Spacey talked about his fellow nominees in the Best Actor in a Drama Series category.
Prodding female celebrities about their fashion choices, love lives and diets in lieu of asking more serious questions about their careers, inspirations and aspirations is nothing new. And that's what #AskHerMore recognizes -- and wants to change.
Sexism on the red carpet is blatant. We should ALL be upset about this. #AskHerMore

— Kaitlyn Fly (@kaitlynlorna) August 26, 2014
Personally, I think the actresses and talented women going to these ceremonies are interesting *people*, not pretty paper dolls. #AskHerMore

— Cori Dickerson (@CoriSeaSinger) August 26, 2014
I love this #AskHerMore movement!!! No more question about looks and diet routines. More questions about their process and artistic choices!

— Kaylyn Dowd (@KaylynDowd) August 26, 2014
Instead of "Did OITNB open your eyes to the prison system" @TaySchilling got "how many clutches did you choose from" #AskHerMore #Emmys2014

— Hasti Namaki (@Namakiki) August 25, 2014
It's crazy that we need a campaign to get journos to ask actresses about more than their dresses. But we do & I'm 100% on board #AskHerMore

— Jen Burrows (@girlglitch) August 25, 2014
Some of last night's reporters did indeed #AskHerMore. Melissa McCarthy and husband Ben Falcone were asked how they manage their career and kids ("Booze helps!"), and Julianna Margulies praised the great roles for women on television in a red-carpet interview.
When it's standard to ask female celebrities about their thoughts on industry sexism and their next moves alongside questions about their gowns and what's in their purses, we'll be happy.

BEFORE YOU GO
PHOTO GALLERY
Women React To The 2014 Emmys