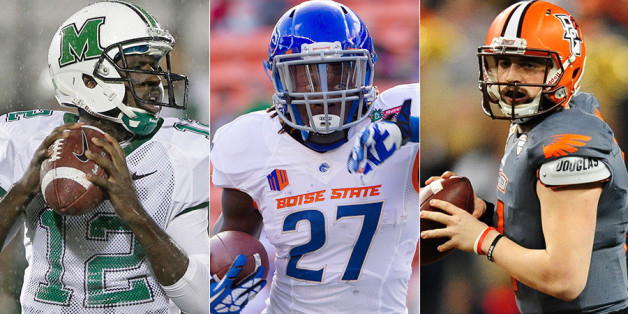 The College Football Playoff is finally here, which means more dollars for the NCAA! In all seriousness, however, the four-team playoff -- which will be determined by 13 voters -- is an unprecedented move that could increase excitement and ideally provide a better opportunity for the non-Power 5 schools to crash the party.
We've seen the likes of Utah, TCU, Northern Illinois, Boise State, Fresno State and others string together some fantastic seasons, only to miss out on a chance to compete for the national title. With the Bowl Championship Series gone, let's examine a list of non-automatic-qualifying teams that could make a run this season.
Central Florida (AAC)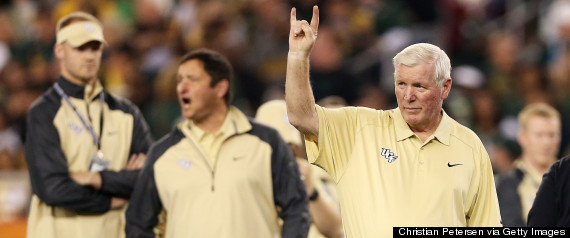 Central Florida posted a school record 12 wins last season and the thought is that with the departure of superstar quarterback Blake Bortles -- the third pick in the NFL draft -- along with running back Storm Johnson to the pros, things will turn sour for George O'Leary's program. Here's a tip: They won't. O'Leary (above), who was once the coach of Notre Dame for about 18 seconds, retains a talented roster that will have plenty of opportunities on the national stage. The Knights have tallied a 34-19 record since 2009 and will have plenty of big game opportunities to cement themselves in the national polls: They play Penn State in Ireland and at SEC dark horse Missouri to begin the season. Talented running back Will Stanback and receiver Rannell Hall are emerging stars.
Boise State (Mountain West)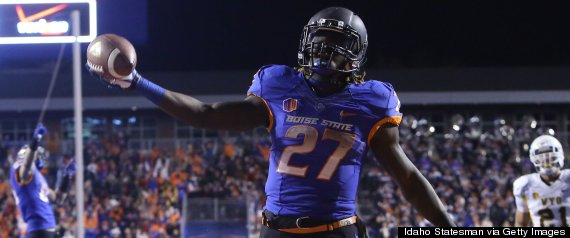 Beloved head coach Chris Petersen and his .885 all-time winning percentage, as well as two Fiesta Bowl wins, bolted to greener pastures at the University of Washington. And yet, the Broncos possess a rising star at tailback in junior Jay Ajayi (above), who ran for 1,425 yards and 18 touchdowns last season. Per usual, Boise plays a big national game -- this year it's at Ole Miss, one of my real sleepers in the monstrous SEC. Newly minted head coach Bryan Harsin will rely most heavily on senior quarterback Grant Hedrick, who hasn't been impressive in the past but has drawn nice reviews from camp.
Marshall (Conference USA)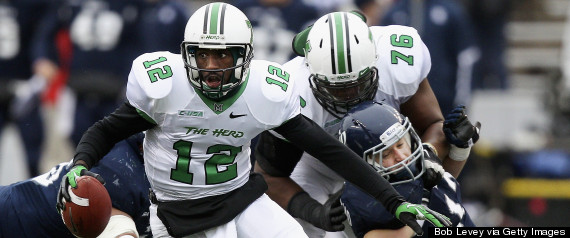 The Thundering Herd (best nickname ever) has a terrific quarterback in Rakeem Cato (above), the returning Conference USA offensive player of the year. The senior narrowly missed out on the 4,000-yard mark to go along with 39 touchdowns, the third most in the nation. He will be throwing to Tommy Shuler, who isn't exactly Randy Moss but has quietly amassed consecutive 1,100-yard seasons. Marshall has to run the table to even have a shot at the playoff and it has a cupcake schedule, which can go both ways. How a non-AQ school and its soft schedule is handled in the eyes of the 13 voters remains to be seen, but the Herd (10 wins last season) has not posted back-to-back seasons with double-digit wins since 2002.
Houston (AAC) Houston's defense led the nation in turnovers last season (43), but the key storyline may be the return of 6-foot-4 sophomore quarterback John O'Korn, who gained 25 pounds to reach 220. He tossed 28 touchdowns as a true freshman while not starting the first three games of the year, and now he's ready to become a national star in the Cougars' new stadium. He has a deep arsenal of receivers, highlighted by 1,200-yard receiver Deontay Greenberry (above), a big-time talent who can make any defense look foolish. Assuming the defense remains dominant -- and with its star linebacker Derrick Matthews returning -- it should be equally stout. The Cougars are a two-way force that will make a ton of noise throughout the season.
Bowling Green (MAC)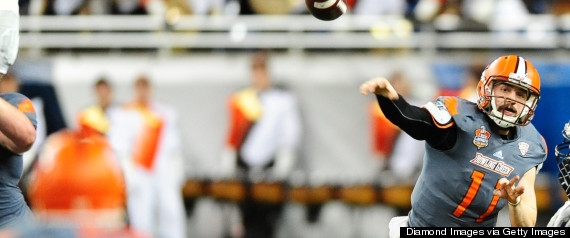 The MAC has long been a quality league that flies under the radar (think Northern Illinois). 2014 will see Bowling Green and quarterback Matt Johnson (above) make an undefeated push. Johnson, a junior, threw for nearly 3,500 yards and 25 touchdowns last year as a first-year starter and could become a household name by the end of the season. The Falcons averaged a robust 35 points per game and will push the 40-point total with a fast-paced Baylor offense this season. In fact, Bowling Green is the only program in the Football Bowl Subdivision that increased its win total by at least two games in each of the past three years.
Correction: A previous edition of this article incorrectly stated that Marshall had not posted a double-digit win season since 2002. It has now been corrected to state that Marshall has not posted back-to-back double digit win seasons since 2002.
Email me at jordan.schultz@huffingtonpost.com or ask me questions about anything sports-related at @Schultz_Report, which also has my full college football preview. Follow me on Instagram as well at @Schultz_Report. Also, be sure to catch my NBC Sports Radio show, "Kup and Schultz," which airs Sunday mornings, 9-12 ET, right here.