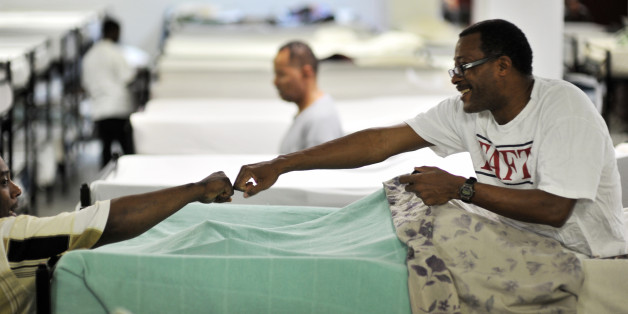 Thousands of homeless veterans have found stable housing in recent years, thanks to federal, state and local initiatives combating the crisis.
According to a press release issued Tuesday by the Department of Veterans Affairs (VA), Interagency Council on Homelessness (USICH) and Department of Housing and Urban Development (HUD), data collected from the annual Point-in-Time Count showed there were 49,933 homeless veterans in the U.S. in January, reflecting a 33 percent decline since 2010. The data also revealed a nearly 40 percent drop in the number of veterans sleeping on the street.
The decline continues a downward trend: Last November, the VA announced a 24 percent reduction in veteran homelessness over the previous three years.
"As a nation, we have proven that homelessness is a problem we can solve," Laura Green Zeilinger, USICH executive director, said in the press release. "Communities all across the country are meeting this costly tragedy with urgency and a focus on helping all veterans and their families achieve safe and stable housing."
Under the guidance of federal recommendations and resources, communities have enacted updated strategies to address veteran homelessness. The press release points out several reasons for the positive news, including a prioritization in a Housing First approach (which removes roadblocks so veterans can find stable shelter quickly), a focus on targeting and identifying every individual in a given community in need of housing and increasing early detection methods so vets at-risk of becoming homeless have access to preventative services.
The Obama administration made veteran homelessness a priority early in the president's time in office, aiming to end it by 2015. According to the VA, Obama requested $1.6 billion for homeless veteran programs for fiscal year 2015, including funds for a Housing Choice Voucher program and community-based temporary housing facilities.
First lady Michelle Obama has also expanded efforts to house U.S. veterans. In June, she announced the Mayors Challenge to End Veteran Homelessness initiative, which calls on local leadership to tackle the crisis in their own neighborhoods. By the end of last month, more than 80 mayors, governors and county officials across the country had signed on to the challenge, the Associated Press reported, including Mayor Eric Garcetti of the second largest U.S. city, Los Angeles.
"The image of even one of these heroes sleeping out in the cold, huddled up next to an overpass -- that should horrify all of us," Michelle Obama said in July after Mayor Garcetti signed on to the challenge, according to the Los Angeles Times. "Because that's not who we are."
BEFORE YOU GO
PHOTO GALLERY
Artist Spends $7,000 Buying Homeless People's Signs For Good Reason