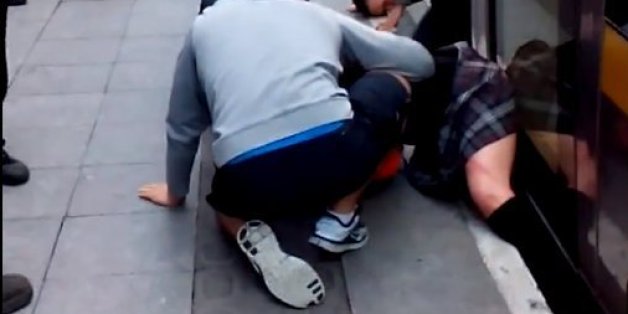 Thanks to the collective power of her fellow commuters, 16-year-old Maja Dabkowska escaped major harm Tuesday morning after she was pinned between a train car and the boarding platform on her way to school.
Video of the incident in Dublin, Ireland, shows Dabkowska sandwiched between the front of the train and the sidewalk as bystanders and passengers rush to help. (Warning: Video may be disturbing to some viewers.)
The clip shows dozens of strangers unite to push on the side of the train. They eventually lift it just far enough to free the teenager who'd been trapped for about five minutes.
"No words to describe how thankful I am to all the people that picked the [train] up in order to get me out," Dabkowska wrote in a comment on Facebook after the accident. "Can't believe I'm alive, could've died today, it's a miracle I haven't lost my leg."
In a second post, she explains she'd been hit by the train as she rushed to catch a bus. Dabkowska says she stepped onto the tracks after one train left the station, not realizing a second train was pulling in right behind it.
"I didn't hear the second one coming," she writes, "only when it was right in front of me, and I panicked and tripped over ... and I scrambled onto the platform but my leg slipped and I didn't make it in time."
"The people were so helpful and got me a bag to lean myself on as I was stuck with my leg sideways. I was there for about 5 minutes. The people then started pushing the [train], and then they could drag me up after a few minutes. They saved my leg - or my life."
The teenager was rushed to a hospital after the accident, and she says she's going to be OK, though she'll spend "the next month or so" on crutches.
WATCH video of the rescue, below. Warning: some viewers may find video disturbing.
BEFORE YOU GO
PHOTO GALLERY
Heroic Rescues