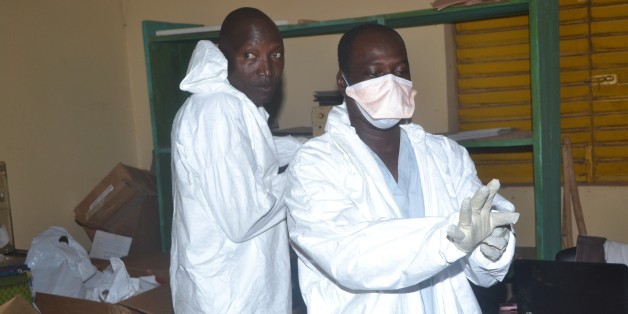 Ebola isn't entering the United States smuggled in by child refugees. But the rapidly spreading and currently incurable disease has killed hundreds of Africans and showed that it can potentially overcome the one drug that seemed to help.
We're currently in the midst of the biggest Ebola outbreak in history -- and according to experts like Laurie Garrett, the senior fellow for global health at the Council on Foreign Relations, we need to recognize that it poses a very real danger. In a forceful Foreign Policy piece published Aug. 14, she wrote: "You think there are magic bullets in some rich country's freezers that will instantly stop the relentless spread of the Ebola virus in West Africa? You think airport security guards in Los Angeles can look a traveler in the eyes and see infection, blocking that jet passenger's entry into La-la-land?" Garrett recommended immediate emergency help for the countries dealing with the disease.
Now the World Health Organization is ready to explain how it thinks that assistance should be organized. The WHO thinks the international community can prevent any further Ebola transmission within six to nine months if governments and other donors are willing to spend $430 million, according to a draft WHO strategy document obtained by Bloomberg.
More than half of that money is needed for under-equipped treatment centers in Guinea, Liberia and Sierra Leone, and a WHO spokeswoman told Bloomberg the final request could still change before the final plan is released.
While Bloomberg notes that the latest ask is six times the amount identified in a previous WHO plan released on July 31, it's a sum that the United States and other developed economies could -- and do -- spend on causes a lot less pressing than an epidemic that has already killed nearly 1,500 people. Here's a selection of things that aren't terrifying diseases on which the U.S. has spent $430 million -- or more:
The Department of Homeland Security spent $430 million over nine years to fund what seemed like a great idea: radios for employees nationwide that could tune into a secure shared channel. Then it became clear that basically no DHS employees knew how to use those radios. (72 percent didn't even know they existed.)
Earlier this month, according to ThinkProgress, Virginia state legislators decided to spend $430 million on a new office building and parking deck for themselves. This is the same amount of money they could have obtained for their state's neediest residents had they accepted the Obamacare Medicaid expansion.
Mitt Romney used his first debate appearance of the 2012 presidential election to tell America he would cut federal funding for beloved network PBS. A U.S. News and World Report post on Romney's proposal noted that PBS and NPR combined received $445 million from the federal government in fiscal 2012 -- an amount that was smaller than the money allotted that year for Amtrak ($1.4 billion) and federal office acquisition ($864 million). Astrophysicist Neil deGrasse Tyson captured the popular reaction:
Cutting PBS support (0.012% of budget) to help balance the Federal budget is like deleting text files to make room on your 500Gig hard drive

— Neil deGrasse Tyson (@neiltyson) October 4, 2012
The District of Columbia spent $670.3 million to build Nationals Park, a stadium that Philip Kennicott, the Pulitzer-winning architecture critic for Washington's hometown paper, called a product of "misplaced priorities" and "a colossal symbolic failure with national and international import."
The Department of Defense spent $454 million to operate the Guantánamo Bay detention center last year. This is, of course, the same prison that President Barack Obama promised to close back in his first term. He reiterated that promise in this year's State of the Union. Powerful Sens. Dianne Feinstein (D-Calif.) and Dick Durbin (D-Ill.) recently called the Cuban prison "a massive misuse of taxpayer money," given its cost per prisoner compared to even the most secure federal prison in the U.S ($2.7 million to $78,000).
A final bonus: Stopping this straight-out-of-a-movie epidemic would cost just a little more than the amount spent on the ultimate box office flop of 2013, "The Lone Ranger." For a film on which it lost around $190 million, Disney spent $375 million.
What else has cost more (or nearly as much) as stopping Ebola? Submit your ideas below or tweet them with the hashtag #StopEbolaOr. Here's a sample tweet:
We could #StopEbolaOr we could build half a baseball stadium for an oligarch http://t.co/jLFVKiycRq

— Ryan Grim (@ryangrim) August 27, 2014
BEFORE YOU GO
PHOTO GALLERY
Iraq War: What Else Could America Have Spent $800 Billion On?