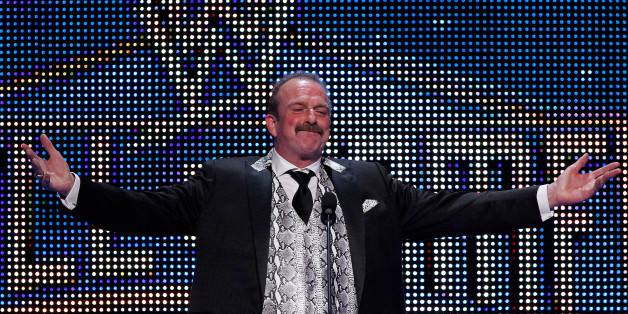 Legendary professional wrestler Jake "The Snake" Roberts is reportedly in intensive care at a Las Vegas hospital after collapsing on a flight to the city on Wednesday.
An ambulance brought Roberts, 59, from the plane to the hospital, where he was diagnosed with double pneumonia, WrestlingInc.com reported.
The website said Roberts was in a coma for nearly 24 hours.
Diamond Dallas Page said Thursday afternoon that Roberts is no longer in a coma.
Just spoke to @JakeSnakeDDT 's girlfriend, Jake is now conscious but still fading in and out. Please keep the prayers coming.

— Diamond Dallas Page (@RealDDP) August 28, 2014
Roberts was supposed to attend a "Freakshow Wrestling" event on Friday night in Las Vegas. Freakshow's SiNN Bodhi, who says he was trained by Roberts, has been at the hospital and provided an update via Twitter:
With @JakeSnakeDDT at hospital, he's more worried about disappointing fans then getting better! We told him 2 shut up &beat this phnemonia!

— Sinn Bodhi - Kizarny (@SiNNbODHi) August 29, 2014
Along with a storied wrestling career during the 1980s heyday of what was then known as the WWF, Roberts publicly battled drug addition. His struggles were documented in the film "Beyond the Mat." In one scene, Roberts is shown smoking crack in his hotel room.
In an interview with WWE.com earlier this year, Roberts said his early attempts at rehab didn't work.
"(T)he reason they didn't work is because I wasn't ready," Roberts was quoted as saying. "I hadn't really found the problem. It wasn't just my addictions. I went through a lot in my life that scarred me pretty good. I built a wall around myself to the point where nobody knew what was really going on inside of me, including myself."
Roberts said he was able to get clean with the help of Page and his DDP Yoga program.
Roberts was inducted into the WWE Hall of Fame in April, on the same night Warrior -- a.k.a. Ultimate Warrior -- was also inducted after an on-and-off feud with the organization.
Warrior collapsed and died just days later. An autopsy later found the cause of death to be cardiovascular disease.
BEFORE YOU GO
PHOTO GALLERY
WWE Superstars