Found photographs are the stuff of magic. A thrift box of Polaroids here a forgotten storage bin stuffed with albums there -- the snapshots of other people's lives, often people you've never and will never meet, allow you to step into a stranger's shoes for a brief moment.
Such is the case with "Lost and Found," an exhibition of found photographs discovered by a Chicago-based photographer named Jeff Phillips.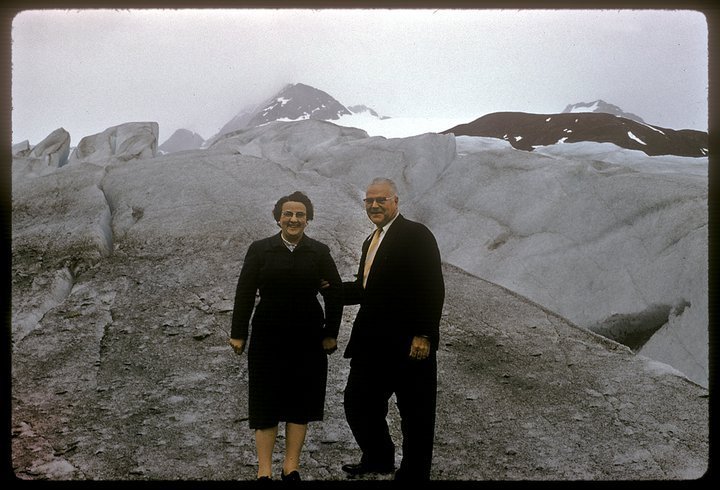 Harry and Edna in Alaska
Phillips happened upon a significant stash of images -- 30 boxes filled with more than one thousand Kodachrome slides -- in a thrift shop in St. Louis, Missouri. Having already developed a penchant for forgotten memories, he bought the collection of family portraits. The purchase was only the beginning of an internet-age love affair with the photos' main stars -- the mysterious Harry and Edna.
Phillips didn't know who Harry and Edna were when he bought the photos, some of which dated back to as far back as the 1940s. So he started a search on Facebook to find out the identity of the dreamy, older duo who vacationed in stunning locales and dined with lovely, equally mysterious companions. Phillips documented the process in depth on his blog, detailing the online community's willingness to help him in his search.
Long story short, it took only three weeks for a woman named Jen from Washington to pin down Harry and Edna's full names: Harry August Grossmann and Edna Annette Lehr. Family members were contacted and -- in quite possibly the best possible outcome -- the descendants of Harry and Edna were fully supportive of Phillips' continued interest in the hundreds upon hundreds of saved portraits.
And so an exhibition began. The folks at Intuit: The Center for Intuitive and Outsider Art showcased Phillips' images, giving Chicago a peek into the wonderful life of Harry and Edna. Take a look below and check out Phillips' website for more.
PHOTO GALLERY
Harry and Edna