This is a baby announcement like you've never seen it.
A former Apple employee crafted a clever website to announce the August 22 birth of his son, Jonathan Henry, by fashioning it in the style of an Apple product announcement page. Simple. Sleek. Adorable.
"Hello, Baby," the website's homepage reads. "Introducing Jonathan, the brand new mini."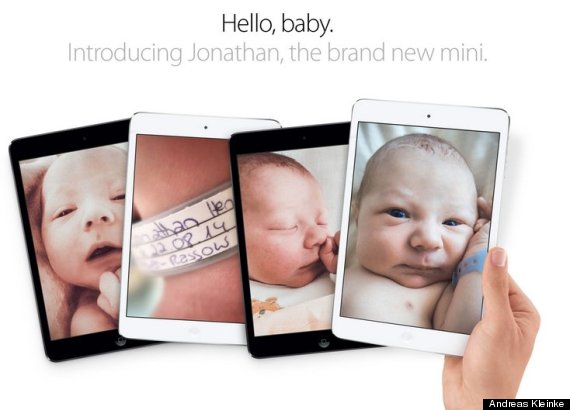 The brains behind the "new mini" is Andreas Kleinke of Munich, Germany, who previously worked as a training manager for Apple from 1999 to 2001, according to TODAY Parents. He says the idea for the website came about during a trip to an Apple store last year, when he and his wife bought their baby-to-be a onesie that had the phrase "brand new mini" written on it.
"When his due date was approaching, I started to think about how to break the news to friends and family once the big day arrived (and) I remembered the 'brand new mini' thing," Kleinke told TODAY.
The adorable site is chock-full of Apple-inspired features like built-in apps titled iEat, iPoop, iSleep, That's it.
The "new mini's" product description is also written in Apple lingo: "The brand new Jonathan (Mid-2014) features a 20-inch seamless unibody enclosure made from a single, solid block of beauty. Ten meticulously aligned fingers deliver the perfect multi-touch experience. Plus, he comes fully equipped with not just one but two iSight cameras, each delivering images in stunning Retina resolution. Dual microphones on both sides catch every sound."
Not mentioned: the new model's seriously cool dad.