 The 2014 NFL season is upon us, which is about the greatest news we can ask for after the dog days of summer. That means the annual speculation about the season has begun. Let's take a look at the best storylines heading into kickoff.
RG3 To DeSean Jackson
On paper, Washington's combination should morph into one of the deadliest duos in the league. Both guys are lightning fast with the ability to instantly change a game. The question marks are equally robust. Will Robert Griffin III's knee hold up and will he be the same type of explosive runner he was in 2012 when he broke the all-time rookie mark for rushing yards and averaged 8.1 yards per carry? Plus, Jackson has been known to challenge coaching staffs -- even the laid-back Andy Reid struggled to contain his personality. Newly minted Washington coach Jay Gruden is known as an offensive guru, though, and this duo -- along with running back Alfred Morris, receiver Pierre Garcon and emerging tight end Jordan Reed -- could give Washington its first playoff win in nine years. Maybe RG3 summed up his new situation best at a recent news conference: "It's really just a good thing to have two coaches that believe in you."
The Chip Kelly Experiment: Year Two
Chip Kelly took Philly to the playoffs in his first season and helped spark the emergence of a star in quarterback Nick Foles, who put up fantastic numbers, including a seven-touchdown game against Oakland. DeSean Jackson has gone to Washington, so Kelly will have to develop new, creative ways to generate big plays. "We were just OK," Kelly told the Delaware County Daily Times. If "OK" means 10 wins and ranking second in total offense, we can't wait to see what Kelly will do for an encore, even without Jackson.
Impact Rookies
Johnny Manziel will supplant Brian Hoyer at some point, but with All-Pro receiver Josh Gordon suspended for the season, expectations should probably be lowered. Part of what makes Manziel so special is his swashbuckling, all-out style. But that style tends to extend off the field as well. Will he stay the course or go awry? New offensive coordinator Kyle Shanahan may have been the impetus to RG3's rushing success with Washington and will ultimately give Manziel the freedom to be the great improvisational playmaker we have all seen. Hoyer was 3-0 as a starter, and the Browns have cycled through 20 starters since 1999, the most in the league.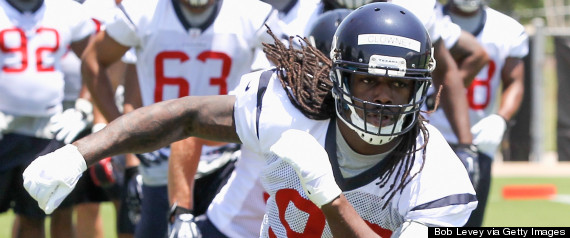 How about first overall pick Jadeveon Clowney? The Texans passed on more proven commodities to team him up with J.J. Watt with the hope of creating the most disruptive defensive line in the game. Clowney's questionable work ethic and propensity to take plays off will not fly at this level. Houston, who compiled an NFL-worst 2-14 record one year ago, can only improve.
Dynamic receiver Sammy Watkins gives Buffalo its best pass-catching threat since Andre Reed and Eric Moulds -- a decade ago. Watkins lit up college football last season for almost 1,500 yards and 12 touchdowns, but second-year quarterback E.J. Manuel still has a lot of growing up to do. Watkins is going to become a star, but he isn't the only young wideout to watch.
New Orleans traded up to nab Biletnikoff Award-winner Brandin Cooks with the 20th pick -- Cooks is a mere 5-foot-10 but ran a lightning-fast 4:33 40-yard dash and is my pick for Offensive Rookie of the Year. With Drew Brees, Cooks could conceivably catch 70-plus balls. And what about Jacksonville's Marqise Lee? The former University of Southern California star slid into the second round after a less-than-stellar junior year and a knee injury, but he has a sensational ability to make big plays.
Young Quarterbacks
Speaking of the Jags, rookie Blake Bortles -- the first QB off the board in the draft -- has both the arm and athleticism to become a star, but Jacksonville is keenly aware of the dangers that rushing a young signal caller can produce. Um, Blaine Gabbert, anyone? In their second year with the franchise, general manager Dave Caldwell and head coach Gus Bradley will surely not make the same mistakes. With receiver Justin Blackmon dealing with an indefinite suspension and receiver Ace Sanders dealing with "personal issues," there is a serious lack of talent on the perimeter.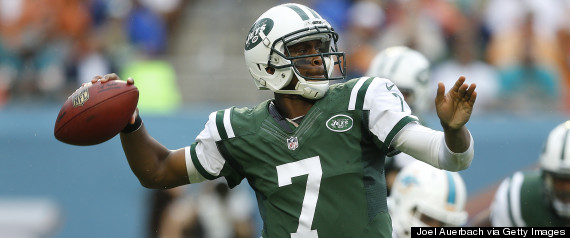 Michael Vick is a New York Jet now, so the pressure is firmly on second-year man Geno Smith to prove he should keep his starting job. Smith was either pretty good or downright awful (12 touchdowns and 21 interceptions) as a rookie, but looked unfit to be a consistent starter for Rex Ryan, who has now missed the postseason three consecutive times.
Derek Carr, the second-round pick out of Fresno State, didn't receive a ton of preseason hype but has nonetheless been very impressive in earning the starting nod over Matt Schaub for Oakland. NFL Network analyst and former head coach Steve Mariucci told me that he loves Carr's maturity and arm talent. The Raiders don't have a ton of offensive talent, but Carr's quick-triggered ability should make them entertaining at the very least.
Mike Glennon appeared to be the man in Tampa Bay, until the Bucs signed veteran free agent Josh McCown. New head coach Lovie Smith knows him well from their Chicago days, but don't forget Glennon started 13 games and tossed an impressive 19 touchdowns. McCown is a career backup, but has three major weapons in Vincent Jackson, Doug Martin and rookie Mike Evans.
Minnesota's latest quarterback experiment comes at the hands of rookie Teddy Bridgewater, who fell to 32nd pick in the draft despite rattling off gaudy numbers at Louisville. The 21-year-old ran a pro-style system in college and has a rising star in receiver Cordarrelle Patterson at his disposal. The Vikings have shuffled through a litany of quarterback failures such as Christian Ponder, Matt Cassel and Josh Freeman, to name a few, but new offensive coordinator Norv Turner is the ideal fit for Bridgewater.
Miami Dolphins quarterback Ryan Tannehill -- an athletic former wide receiver -- heads into his pivotal third year, coming off a solid 24-touchdown season where he amassed almost 4,000 yards. He will have a new offensive coordinator in Bill Lazor, who is best known for having worked with Chip Kelly in Philadelphia. Better yet, the Dolphins possess a revamped offensive line. The "leap year" for Tannehill may be right now.
The New Eli Or The Old Eli?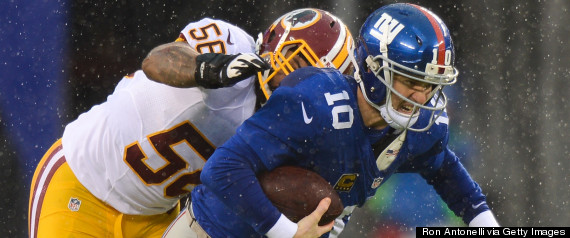 Eli Manning has two rings and yet, after a disastrous 27-interception season (the most in the league), we were left wondering just how much is left in his 33-year-old tank. This season, Manning has a new OC, a reworked offensive line, a healthy ankle, rookie tailback Andre Williams and another playmaker at receiver -- rookie speedster Odell Beckham Jr. (if he ever plays). The pressure is on him and coach Tom Coughlin to return to the playoffs, because another seven-win season might cost Coughlin his job.
Same Ol' Cowboys
We can talk about 34-year-old Tony Romo (and his second back surgery) all we want, but love him or hate him, what cannot be ignored is the abysmal Dallas defense that last year ranked dead last in yards allowed (415.3). Just recently, it lost star linebacker Sean Lee to a torn ACL. Also gone -- albeit to free agency -- is Pro Bowl stalwart DeMarcus Ware, who signed with Tampa Bay. New defensive coordinator Rod Marinelli should be a noticeable improvement from Monte Kiffin, but he simply doesn't have the horses in what's become a loaded offensive NFC East. Romo may very well have another big year, but expecting him to win a second playoff game seems unrealistic.
The Dominance Of The NFC West
Seattle and San Francisco are the obvious juggernauts of the division, but both Arizona and St. Louis have quietly amassed well-rounded, highly talented rosters. The Rams, with consecutive years of two first-round selections, may have the best front seven in the league. The big question was whether former top pick Sam Bradford could deliver the goods under center. Now that he's out for the season, veteran Shaun Hill becomes the guy.
The Cardinals possess rising stars on both sides of the ball: Second-year receiver Michael Floyd is the Robin to Larry Fitzgerald's Batman, while young corners Patrick Peterson (24 years old) and Tyrann Mathieu (22) can shut down the perimeter. Don't forget that this team missed the playoffs last year despite totaling 10 wins.
Seahawks Repeat?
Since I picked Super Bowl champion Seattle over Denver this time a year ago, I feel extra special. (Note: This is not a common theme.) The Seahawks re-signed All-Pros Earl Thomas and Richard Sherman, along with defensive end Michael Bennett, but let slot receiver Golden Tate walk. Bottom line? The league's most dominant defense remains intact and will lean more on rising cornerback Byron Maxwell, who fully assumed the role alongside Sherman last season when Brandon Browner was cut. Pro Bowler Russell Wilson is coming off a 26-touchdown, nine-interception campaign and has fellow Pro Bowl running back Marshawn Lynch at his disposal. Perhaps the three key questions for the Seahawks are how they handle a brutally challenging schedule, how they work with a somewhat-patchwork offensive line and whether this team will be the highly motivated unit of a year ago. Then again, head coach Pete Carroll has proved that he knows how to handle success, and if they become the league's first repeat champ since New England a decade ago, it would not be a surprise.
Denver's Unfinished Quest Nobody has forgotten about the Broncos' embarrassing Super Bowl performance (a 35-point loss) and their rapidly closing window. Peyton Manning is one year older and lost one of his favorite targets in receiver Eric Decker. However, he has the highly explosive Emmanuel Sanders. To put it simply, the Bronocs must be a lot better defensively: The DeMarcus Ware signing will help, as will gifted corner Aqib Talib, free agent acquisition in safety T.J. Ward and a healthy Von Miller. But this will still not be an elite defense, and that is concerning.
Breakout Team
Nothing is guaranteed in this league: The Texans and Washington both won their divisions in 2012. Last year, they combined to go 5-27. And, though last season's big surprise was Kansas City, perhaps this season's will be Tampa Bay. With the aforementioned Lovie Smith at the helm, the Bucs made a colossal upgrade at several crucial positions in free agency, including the signing of defensive end Michael Johnson, offensive tackle Anthony Collins and cornerback Alterraun Verner. It all comes back to McCown, though -- a veteran coming off a career season in Chicago, totaling a 66.5 completion percentage with three consecutive 300-yard passing games. Tampa was a four-win team a year ago and even with the rugged NFC South, this may just be a playoff team in 2014.
Email me at jordan.schultz@huffingtonpost.com or ask me questions about anything sports-related at @Schultz_Report and follow me on Instagram @Schultz_Report. Also, be sure and catch my NBC Sports Radio show, "Kup and Schultz," which airs 9-12 ET on Sunday mornings, right here.