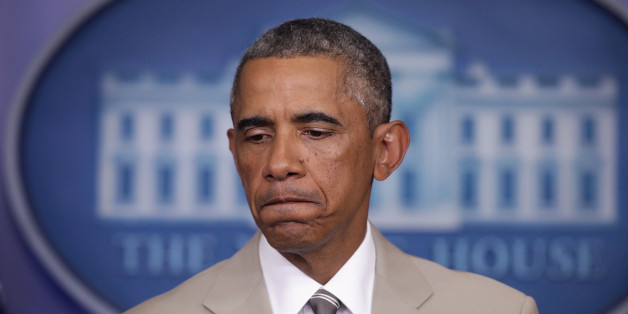 President Barack Obama's popularity in California has fallen to an all-time low, with his approval rating among voters down to just 45 percent, a Field Poll released Tuesday found.
This is the first time his approval has dipped below 50 percent in the state since 2011 and is a 5-point drop from June, Field Poll founder and advisor Mervin Field and director Mark DiCamillo noted in a press release. It's a stark contrast to the 62 percent positive rating he held in the firmly blue California at the beginning of his second term.
Obama's rating fell significantly in the San Francisco Bay Area, Los Angeles County and the Central Valley, and with demographics groups including Asian-Americans, moderates, and voters aged 50-64. He also lost ground among voters with a post-graduate education and strong liberals, although majorities in both groups continued to approve.
"These are constituencies that have been strong followers," DiCamillo told the Sacramento Bee, but there's "frustration in the president not getting his way in affecting policy in Washington."
He added that presidents' approval ratings often fall as their terms progress and they're tied to an accumulation of problems, but said that on top of that, Obama hasn't made enough progress on issues such as immigration reform that rally liberals.
"There's very little, besides the health reform law, that he can actually hang his hat on," DiCamillo explained.
The Field Poll used live telephone interviews to survey 1,280 California voters on landines and cell phones between Aug. 14 and Aug. 28.
HuffPost Pollster's average, which includes all publicly available polling,
shows
the decline in Obama's ratings in the state:
BEFORE YOU GO
PHOTO GALLERY
9 Obama Fist Bumps