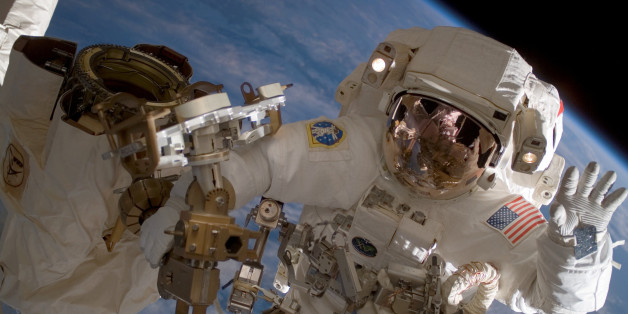 It was a historic day when astronauts met Twitter in 2009.
Those aboard the International Space Station have been using the social media platform to share magnificent photos of Earth ever since. And now -- thanks to Dave MacLean, a faculty member at the Centre of Geographic Sciences (COGS) in Nova Scotia, Canada -- there's an easy way to follow the astronauts-cum-photographers.
Using Twitter's geographic data, MacLean has developed a map to organize more than 650 photos taken from the ISS. The map pinpoints where the photos were taken over Earth, making it easy to see what your favorite landmarks look like from space. MacLean's map also shows the current position of the space station, give or take a minute or so:
(Story continues below.)

The project is a collaboration of NASA, COGS, and the Environmental Systems Research Institute's geographic information systems mapping software. It features photos from the Twitter feeds of Alex Gerst, Reid Wiseman, Макс Сураев and Oleg Artemyev as they float around the world at 17,150 miles per hour.
What's the view like from that far away? Check out these photos of North America and the Pacific below:
Wow!!! San Diego, LA, San Francisco. And Vegas sticks out a bit in the desert! pic.twitter.com/yRP2T8U1zD

— Reid Wiseman (@astro_reid) August 12, 2014
Fantastic clouds stop just short of blocking the Hawaiian sun. pic.twitter.com/mEDm9Jr0sY

— Reid Wiseman (@astro_reid) July 28, 2014
New Mexico, #USA #BlueDot pic.twitter.com/F67p8YVaMD

— Alexander Gerst (@Astro_Alex) July 1, 2014
I believe this is where Pacman was invented. Irrigation in the Mid-Western USA. #BlueDot pic.twitter.com/hupaUIyeyw

— Alexander Gerst (@Astro_Alex) August 19, 2014
Краски Земли #Багамы Остров Андрос #МКС (#Earth #Paints #Bahamas Andros Island #ISS) #BlueDot http://t.co/j7y8xX7YlW pic.twitter.com/oNl3rWpEXr

— Oleg Artemyev (@OlegMKS) August 14, 2014
Nova Scotia #CanadaDay #BlueDot pic.twitter.com/rx7KNTevT0

— Alexander Gerst (@Astro_Alex) July 1, 2014
New Orleans Tree - the Mississippi River Delta #ISS #BlueDot HQ in blog http://t.co/4gEhwqOv7r pic.twitter.com/RlnLqnIBWO

— Oleg Artemyev (@OlegMKS) June 27, 2014
Beautiful #NiagraFalls thru 800mm – natural wonder better viewed from Earth! pic.twitter.com/6YWCSg40B2

— Reid Wiseman (@astro_reid) July 5, 2014
It always blows me away to look down at #manhattan pic.twitter.com/amWYbb6xMv

— Reid Wiseman (@astro_reid) August 25, 2014
Thanks @astro_Pettit for the tips. Cloudy US at night. pic.twitter.com/IhiBp4dFll

— Reid Wiseman (@astro_reid) June 9, 2014
140 letters isn't enough. Richmond, DC, Baltimore, Phili, NYC, Detroit, Chicago, Toronto, #Aurora #todaysunrise pic.twitter.com/6K9ikwnuIS

— Reid Wiseman (@astro_reid) August 6, 2014
You can absolutely see #borders from space. Here, a bright yellow line divides San Diego and Tijuana. pic.twitter.com/NwqcU3L1cB

— Reid Wiseman (@astro_reid) August 12, 2014
I need to go hiking in the #Canyonlands of #Utah again. Wow. pic.twitter.com/MufJN7ZPvW

— Reid Wiseman (@astro_reid) July 9, 2014
Яичница-глазунья посреди океана. в блоге (Fried eggs in the middle of the ocean. HQ see blog) http://t.co/NSTPyJHtpH pic.twitter.com/MtDedEcKSS

— Oleg Artemyev (@OlegMKS) May 21, 2014
Looking back west towards Houston, DFW, San Antonio, Austin. Beautiful. pic.twitter.com/dFfNSp0az8

— Reid Wiseman (@astro_reid) August 9, 2014
BEFORE YOU GO
PHOTO GALLERY
NASA Insider's Favorite Pictures Of Earth