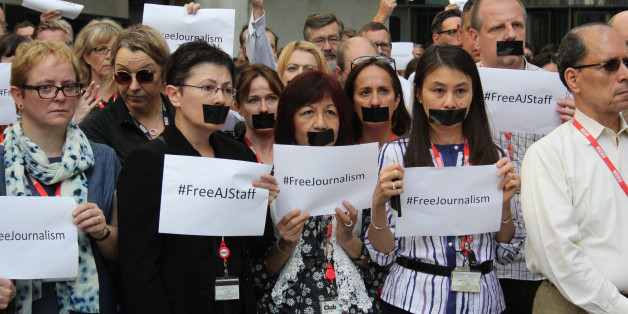 Two-hundred-and-fifty days after Al Jazeera's Peter Greste, Mohamed Fahmy and Baher Mohammed were locked up in Egyptian prison, journalists haven't given up on their fight to demand their release.
#FreeAJStaff 250 days :-( pic.twitter.com/fRbjrOEl0X

— Al Jazeera PR (@AlJazeera) September 4, 2014
News outlets and journalists expressed their support on Thursday, the 250th day of the journalists' imprisonment, using the #FreeAJStaff hashtag for solidarity. The #FreeAJStaff campaign gained momentum in February after a video surfaced showing the arrest of Fahmy and Greste at their hotel in Cairo.
The men, along with Mohammed, have been detained in Egypt since December on charges of airing false news and aiding the Muslim Brotherhood. After a drawn-out and controversial trial by an Egyptian court, they were sentenced to seven to 10 years in prison, a decision that triggered global outrage. For months, world leaders and human rights organizations have spoken out to condemn the journalists' imprisonment. Tens of thousands of people in more than 30 countries have come together as part of the #FreeAJStaff campaign in defense of not only Greste, Fahmy and Mohammed, but press freedom everywhere.
Thursday's 250-day mark only showed that the battle is not slowing down, as newsrooms and reporters worldwide stepped up their call to action:
250 days since @AJEnglish journalists @repent11 @PeterGreste @Bahrooz were imprisoned in Egypt. Time to #FreeAJStaff pic.twitter.com/V3ThjBzyzF

— The Guardian (@guardian) September 4, 2014
I am in Malaga. They are in prison. #FreeAJStaff pic.twitter.com/KdLyWcVh2S

— alex thomson (@alextomo) September 4, 2014
A reminder that three Al Jazeera journalists have been jailed in Egypt for 250 days. (#FreeAJStaff) - pic.twitter.com/ewvLlMvjOT

— Matthew Keys (@MatthewKeysLive) September 4, 2014
@JulieBishopMP @TonyAbbottMHR @tanya_plibersek 250 days and counting since Peter Greste detained. This is appalling #freeajstaff

— Antony (Tony) Walker (@tonywalker1) September 4, 2014
Good morning World. Free Journalists @Repent11 @PeterGreste @Bahrooz Journalism is not a crime. #FreeAJStaff #London pic.twitter.com/0uvcJq08eu

— Undercover Reporter (@lathaney) September 4, 2014
It has now been 250 days in prison for @AJEnglish journalists: @Bahrooz @Repent11 and @PeterGreste jailed for doing their jobs #FreeAJStaff

— Urmee Khan (@urmeek) September 4, 2014
Thoughts with @Repent11 + @PeterGreste + @Bahrooz 250 days. We are still counting and not forgetting our #FreeAJStaff friends in #Sisi jail

— Paul Mason (@paulmasonnews) September 4, 2014
Remembering the journalists still imprisoned in Egypt today for doing their jobs.
#journalismisnotacrime @globalfreemedia #FreeAJStaff

— Vane Garnica (@garnica_writer) September 4, 2014
250 days of #Egypt criminalizing journalism #FreeAJStaff

— Foodmancing® (@Foodmancing) September 4, 2014
To @PeterGreste @Bahrooz @Repent11 thinking of you as Winter becomes Spring in Australia. Stay strong. #FreeAJStaff pic.twitter.com/9uTxG5Pscw

— Zoe Daniel (@zdaniel) September 2, 2014