Football may have a hard time officially wresting the title of "America's Pastime" from baseball if NFL teams can't even get the lyrics to the national anthem correct.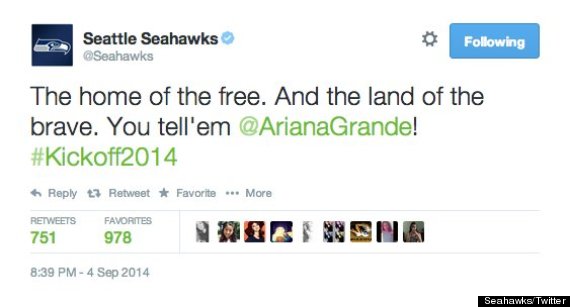 Within minutes of the 2014 NFL season kicking off, a tweet from the official Twitter account of the Super Bowl champion Seattle Seahawks mixed up a few words in recounting those classic traits attributed by Francis Scott Key to the brave U.S. soldiers who defended Baltimore's Fort McHenry in 1814. The tweet was deleted not long after pop singer Ariana Grande finished her rendition of the "Star-Spangled Banner" in front of a raucous crowd at CenturyLink Field on Thursday night. Perhaps to the chagrin of the person behind the @Seahawks account, Grande later shared the original message with her millions of followers on Twitter.
good luck & thank u for having me!!! "@Seahawks: The home of the free. And the land of the brave. you tell'em @ArianaGrande #Kickoff2014"

— Ariana Grande (@ArianaGrande) September 5, 2014
Like the champions they ostensibly represent, @Seahawks bounced back with a joke about the #Kickoff2014FauxPas.
@ArianaGrande Your rendition got the best of us. At least the improtant one of us got it right. #Kickoff2014FauxPas

— Seattle Seahawks (@Seahawks) September 5, 2014
H/T Deadspin