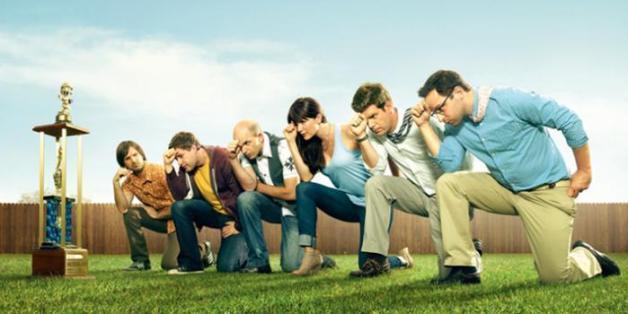 It's time to break out the Three Penis wine and put on your Ed Hardy T-shirt because "The League" is back! If you've never seen the show, do yourself a favor and steal someone's Netflix password so you can binge-watch Seasons 1-5. It's roughly twenty hours of television and, no, you don't need to know a damn thing about football or fantasy football.
MOVING ON.
When we left the gang last season, Jenny won Shiva Bowl much to the dismay of Kevin, who took home the title of Sacko Bowl loser. Naturally, coming in dead last has Kevin reeling and we ring in episode one of this season inside his nightmare. In typical "League"-like fashion, an absurd amount of NFL players make cameos: Carlos Hyde, Mike Evans, Ryan Shazier, Stephon Tuitt all appear (to name a few). It seems Kevin's taking part in the NFL Combine for incoming rookies and is failing miserably at keeping up. Kevin assures Mike Evans that he's a sleeper who then assures him that "nobody sleeps that deep." Preach, Mike Evans, preach.
After wetting the bed, Kevin wakes up and the Sacktual abuse continues with Jenny handing out customized calendars complete with a photo of herself holding her trophy to the dudes. Kevin's bitterness is palpable and I want to hug him while simultaneously high-fiving Jenny because she's a badass.
The group then embarks on a weird all-over-town golfing expedition which ends with Ruxin's golfball landing in a random man's soup. The balls have already begun flying and we're barely midway through the first episode of the season. Post-golf, the gang reconvenes and FaceTimes a besuited Ted to discuss the draft. All seems fine until he declares that "Kevin is the new Andre" and then he gets hit by a car and DIES (Bye Adam Brody!). Strangely, I don't particularly care that he dies and neither does the team. His death is met with general indifference and Kevin is beside himself about his new status as the team pariah.
Indifference and status aside, the group goes to California to pay their 'respects' to Ted's family. Ted's parents inform them that they intend to sit shiva and the realization of shiva/Shiva does not go unnoticed. This was a perfect and missed opportunity for a Shiva blast so I'm slightly annoyed that didn't happen, but then again there are twelve episodes left to the season. The dawn has yet to break.
The rabbi informs the gang that they are in need of guardians to 'watch Ted's body' overnight, to be 'shomers.' Naturally, the team uses this opportunity to have Ted participate posthumously in his final drafting because "it's what he would've wanted." At perhaps the most morbid fantasy drafting party EVER, the team situates themselves around Ted's coffin and begins making their picks. Ruxin confuses Jordan Cameron and Cameron Jordan, leaving him with the worst team imaginable, Jenny nabs Russell Wilson (GO HAWKS), and Taco just keeps being Taco. Weed, beer, and the draft board itself all find their way into the coffin throughout the night and all but the latter is removed when the rabbi shows up unexpectedly after "noise complaints." The team assures him that all is well and then he drops the bomb. Ted left his Laguna Beach house to whomever wins the season. Shit's about to get more real than ever before.
Ted's funeral is the following day and, as if there weren't enough NFL cameos, Jordan Cameron and Cameron Jordan show up at Ted's funeral clearly for no other reason than to give Ruxin a giant YOU GOT SERVED. After the rabbi's abrupt appearance the night before, Taco informs everyone that he hid the draft board under Ted's coffin so the goal of the day has become: retrieve the draft board.
The gang convinces Andre to attempt to start a flashmob at the funeral, which backfires, but gives way to a whole new persona for Andre: Tefl-andre. In perhaps one of the greatest "League" twists ever, human punching bag Andre is letting things bounce right off of him and coming back with clever commentary of his own. Is this the beginning of a new era?! Kevin and Jenny leave the funeral because of Kevin's "roster wood." (A stellar nod to their previous excursion at Sofia and Ruxin's wedding, seen in Taco's homemade anniversary video a la Season 2. Hats off to you, Kevin and Jenny, for never resisting the urge to get it on.)
After a rogue golfball knocks out the rabbi mid-funeral (courtesy of Taco), another poorly executed plan of trying to retrieve the board ensues. Pete, Ruxin, and Taco steal Ted's coffin and then end up using it as the most dysfunctional battering ram ever. They break down the door to the morgue and interrupt Kevin and Jenny's "really sad. middle-aged" tryst. Somehow, Ted's dead body falls out of the coffin and no one notices until his coffin has already been taken to the gravesite. The mourners are given near heart attacks when Taco pops out of the wooden box as it gets lowered into the ground, waving the retrieved draft board.
Taco tells the crowd, "Don't worry. It's just a draft. Ted is still dead,'' and "The League" comes in to season six just as strong and ridiculous as ever.
THINGS TO NOTE:
Andre's wide variety of vests.
The beautiful usage of "Sacktual."
Taco's golf ensemble.
"This is not the mourner's kaddish."
"Taco, you cant get high on a running back."
The show's second reference to 'A Funny Thing Happened On The Way To The Forum' (The first one was in season 1's "The Usual Bet").
Taco lighting a joint in Ted's dead, cold mouth.

Keep up with "The League" recaps here every week. "The League" airs on Wednesdays at 10 p.m. ET on FXX.
BEFORE YOU GO
PHOTO GALLERY
The Walking Dead