As part of our Blended Family Friday series, each week we spotlight a different stepfamily to learn how they successfully blended their two families. Our hope is that by telling their stories, we'll bring you closer to blended family bliss in your own life! Want to share your own story? Email us at divorce@huffingtonpost.com.
At the age of 23, Rob Walker and his wife both got married... only it wasn't to each other.
"We often fantasize about what it would be like if we had we found each other at 23 and been each other's first marriage," he told us via email. "Would we have seven children like we do now? Where would we be in life? Would we be living in the same home? Would the kids be going to the same schools? The list goes on and on."
"What ifs" aside, Rob and his wife Donna certainly realize how lucky they are to have their blended family.
"As time goes on, you start to accept the cliché that everything happens for a reason as truth," he said. "You drop the 'unfortunately, we met later on' talk and you embrace your situation for being perfectly yours. I'm the luckiest man I know."
Below, Rob tells us a little more about his family.
Hi Rob. Want to introduce us to your family?
Sure. Donna and I have been married for five years. We have seven children in all. Donna has three children from a previous marriage: Alexandra, 21; Samantha, 19; and Gabe, 15, and I have two children from a previous marriage: Jack, 15 and Katie, 12. We brought all five together very gradually. We wanted to make sure we did this the right way: we consulted therapists and read the how-to books and articles. It was bumpy and a challenge at times, but we quickly became a family.
Donna and I also have two kids together: Robbie, now 4 and Hayes, who will be 2 in February. We wanted Robbie and Hayes so that we could experience the joy of bringing children into the world as a couple. Their births really brought us all together as a family. The result is seven children who love and treat each other as if they were with each other from the start!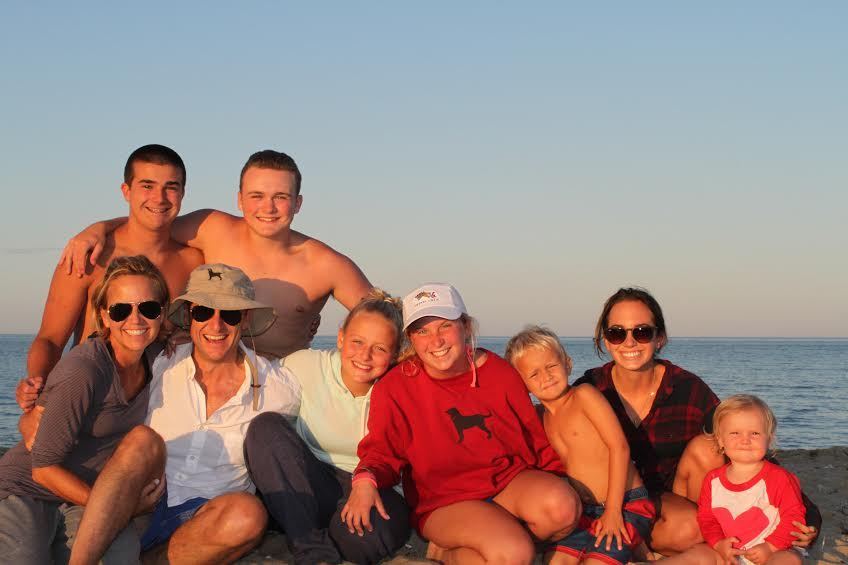 (Photo by Sean O'Rourke)
What are some of the biggest challenges of blended family life?
Surprisingly, none of the children came to Donna or me before we were together and said, "Hey, can you divorce my other parent so I can share my room with some random kid I don't know?" It's hard. When you blend two families you change everyone's world. You hope it's eventually for the better, but the challenge is to take one day at a time and realize that what you want -- a new partner who you will spend the rest of your life with -- may not be what your children want. You deserve to be happy but it may take time for the kids to accept the new plan. Couples who are remarrying need to understand that.
What's the best thing about being part of a blended family?
The best part of being a blended family is getting to witness seven kids growing up together and learning to love each other as if they were family from the get-go. They're growing up as part of something greater than themselves. Regardless of last name, we are family and we feel blessed to be one.
What makes you proudest of your family?
When you look at the pictures of us and see the smiling faces of our children you instantly know their happiness is real. You see two 15-year-old boys with their arms around each other and a teenage girl patiently holding a baby who was less than agreeable when the photo was taken. You see a man and woman who were told right from the beginning, "It will never work" by so many friends and family….and yet here we are, one really big happy family. When I look at those photos, I know why I'm here and that's when I'm the proudest.
How do you deal with stress in your household?
Donna and I can solve all the world's problems after a seven-mile run. When we are lucky and have the time, that's what we do. It's how we met and we'll do it for as long as we can, God willing. Running together is our time to be with each other -- even if at times it's with a double jogger stroller in front of us!
What advice do you have for other blended families who are struggling to keep it together?
Take a deep breath. Let out all the "bad stuff" and realize that life is one big do-over, and you get that chance to start again every day. Lastly? Remember, you deserve to be happy.
PHOTO GALLERY
Meet Rob And Donna's Family
Keep in touch! Check out HuffPost Divorce on Facebook and Twitter. Sign up for our newsletter here.
BEFORE YOU GO
PHOTO GALLERY
Blended Family Friday