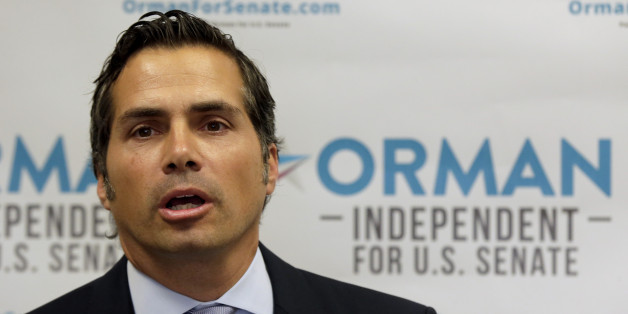 The upheaval in the Kansas Senate race creates one set of challenges for pollsters and another for forecasters. Americans are more optimistic about jobs, but not the economy. And Obama's job approval is down...or is it? This is HuffPollster for Friday, September 5, 2014.
KANSAS GETS MORE COMPLICATED - Sam Stein: "Almost as quickly as Democrats grew giddy over the prospects of an out-of-nowhere win in the Senate race in Kansas, the dream took a hit on Thursday. A ruling from Kris Kobach, Kansas' secretary of state and a longtime bête noire of liberals, upended a move to essentially coalesce the Democratic Party around the independent candidate in the race, businessman Greg Orman. The Democrat in the race, the underwhelming and underfinanced Chris Taylor, would remain on the ballot, Kobach said, despite his request to expunge his candidacy from the election." [HuffPost]
Democrat to challenge ruling - Alexandra Jaffe: "Kansas Democrats were up in arms, and Taylor himself said shortly after Kobach announced his decision that he's going to contest it, noting the fact he was told by an elections official the document he submitted Wednesday was sufficient to remove him from the ballot. 'I am planning to challenge the ruling of the Kansas Secretary of State, who serves on Pat Roberts' Honorary Committee,' Taylor said in a statement...It's still unclear what a legal challenge would entail, however, or how long they'll have to file a complaint, but the window appears to be narrowing by the day. Kobach said Thursday that because military ballots have to be sent out 45 days before the election, and printing takes some time, 'everything has to be set by September 18.'" [The Hill]
Lessons from history - Daily Kos Elections blogger Taniel examines "the recent history of comparable situations" where the candidate drops out but their name remains on the ballot: "My conclusion is that we shouldn't expect Taylor to get a significant percentage of the vote: Most voters desert candidates who have dropped out but whose name remains on the ballot. Most voters also abandon major-party candidates who have been clearly supplanted by a third-party or independent candidate, even when the major-party candidate continues campaigning. (While Taylor will cease his campaign, these cases are useful in providing an upper limit of what Taylor may get.) But these examples also signal that we should still expect Taylor to receive a small share of the vote, which could impact the outcome of the election if it is close." [DailyKos]
'So how do you poll this?' - That's what FiveThirtyEight's Harry Enten asked of his followers on Twitter. HuffPollster put the same query to a set of campaign pollsters for both Democrats and Republicans via email. All agree that the first vote question should replicate the choices that voters will see on the ballot. Most also argue for additional probes to gauge where choices might be heading as voters learn that Taylor has dropped out of the race, but they differ on the best approach. Several said they would include some sort of informed vote explaining Taylor's status to try to anticipate facts that most voters will inevitably acquire.
-Jon McHenry (R), North Star Opinion Research: "I would ask a three-way ballot first: 'If the election for U.S. Senate were being held today and the candidates were (ROTATE: Pat Roberts, the Republican, Chad Taylor, the Democrat, and Greg Orman, an Independent) for which candidate would you vote?' Then I would ask: 'If the election for U.S. Senate were being held today and the candidates were just (ROTATE: Pat Roberts, the Republican, and Greg Orman, an Independent), for which candidate would you vote?' I think you have to take into account that Taylor will be on the ballot, but you also want to see where the ballot might be heading. Anyone polling the race is going to want to track the change on the three-way to see if Taylor drops to nothing as we get into October.
-Mark Mellman (D), The Mellman Group: "Tough situation....I'd probably do 2 horseraces....one just as it appears on ballot, first .....folks either know or don't that Taylor withdrew...then a second one where we say he has withdrawn but is on the ballot....and see how much difference there is."
-Nick Gourevitch (D), Global Strategy Group: "I would ask 3-way straight up to get unbiased read (some voters may know Taylor withdrew but others will not and important to get a read without telling them). Then would say 'as you may know, Democrat Chad Taylor withdrew from the race but his name will still be on the ballot and you can still vote for him. Knowing this, who would you vote for?' This would simulate the effect of the electorate knowing that Taylor is out (as I would guess that Orman will likely try to communicate that to Dems). Then I might ask Taylor voters on a follow up who they would vote for if Taylor's name didn't appear on the ballot."
-Alex Lundry (R), Target Point: "This is easy. If your name is on the ballot and there is an R or D next to it, then you're on my survey ballot."
-Celinda Lake (D), Lake Research Partners: "This is a case where online polls and IVR [automated, recorded voice surveys] may be more accurate than phone polling. I might split sample the ballot and ask half the voters with the democrat named and half with the democrat only if someone volunteered it. This may be harder to poll right now and may be easier to poll later."
-Jon Anzalone (D), Anzalone Liszt Grove Research: "I think you have to approach it that by the end of the election 95% of voters will know the Dem is out of the race. The Indie will communicate that, if not in broadcast, in the mail and paid phone and field program (especially if the Dem party gets involved). So given that I think I would address it in the intro. 'As you may know, there is a U.S. Senate race in Kansas this November. The Democratic nominee, Chad Taylor, recently announced he is withdrawing from the race. If the election where held today, for whom would you vote -- (rotate) Pat Roberts a Republican, Greg Orman, an Independent or Chad Taylor, a Democrat?' (I would leave him in just to see what he gets and if respondents ask about him would have them say 'Democrat Chad Taylor withdrew from the race but his name will still be on the ballot'). Then I would do a two-way with Roberts and Orman. Not perfect but Taylor will pick up some votes."
Enten got similar responses on Twitter:
-Logan Dobson (R), The Tarrance Group (pollster for Pat Roberts): "Put me on team poll the ballot. I want the results of the question that will actually be in front of them...if voters are informed, that'll show up in the results. no need to do it for 'em...the problem with asking an "informed" ballot on the poll is that not all the actual voters are going to BE "informed" in the voting booth" [@LoganDobson here, here and here]
-Dan Cassino , agreeing with Dobson: "I'm with you - items [should] be as close to the ballot as possible. Drop off likely, but better than alternative." [@DanCassino]
-Steve Koczela, MassINC: "First regular ballot, then informed ballot. Give a sense of how margin will change from now to Election Day." [@skoczela]
HOW KANSAS COMPLICATES SENATE PROJECTIONS - The possibility that independent candidate Orman could win in Kansas, and that Republicans could win a total of 50 Senate seats elsewhere, creates a special challenge for those attempting to quantify the probability of a GOP majority. To complicate things further, three prominent models are making different assumptions about what Orman might do in a stalemate scenario:
-Josh Katz: "The Upshot's Senate forecasting model is shifting the Kansas Senate race from Solid Republican to Tossup, setting Mr. Roberts's chances of losing his seat at 38 percent...Perhaps the greatest complication of all is that Mr. Orman has not specified which party he'd caucus with should he win. In a recent interview, he suggested that he'd join whichever party had the majority, and — for the time being — we're using this assumption for the simulations in our Senate model. This is the reason we're currently forecasting a slightly decreased likelihood of the Republicans' ending up with 51 seats (which had previously been the most likely outcome in our forecast). Assume for a moment that Orman wins. If Republicans end up with 51 seats, then we assume Orman will caucus with the Republicans, giving them 52 seats. If Republicans end up with 50 seats, Orman's intentions are not clear. We're currently assuming that he'll caucus with Democrats, given his previous history as a Democrat and that he is replacing the Democratic candidate as Roberts's chief opponent, keeping the Republicans at 50 seats and — with Joe Biden's tiebreaking vote — giving Democrats control of a split chamber." [NYTimes]
-Nate Silver: "This is an extremely difficult race to forecast, but pending further information, our model gives Orman about a 45 percent chance of winning....What about that instance where Republicans are stuck on exactly 50 seats without Orman, while Democrats are at 49? In that case, Orman's decision would determine Senate control. If he joined the Democrats, the Senate would be split 50-50 and Democrats would represent the majority party because of the tiebreaking vote of Vice President Joe Biden. If he joined the Republicans, they'd control the Senate 51-49. Our assumption is that there's a 75 percent chance Orman will caucus with the Democrats should that situation arise. This is similar to the assumption we made for King two years ago." [538]
-David Jarman on the DailyKos Poll Explorer forecast: "The switch to a two-way race between Roberts and Orman, where Orman has a 10-point lead, dramatically changes the trajectory of the Kansas race. Where the Democrats previously had a 5 percent shot of winning the race, they now have a 54 percent shot!...Here's where the modeling gets tricky, and it starts to cross over from mere poll aggregation into game theory...[under the scenario where] Democrats win 49 seats, Republicans win 50 seats...There's no 'clear' majority (in other words, if Orman throws in with the Democrats, the Dems will have a majority because of Biden; if he throws in with the Republicans; the Republicans will have a majority), and Orman needs to go one way or the other, unless fellow indie Angus King decides to leave the Dem caucus and join Orman on a two-person magical unicorn ride. Our model, awesome as it is, still can't predict Orman's state of mind, so in all 49 D/50 R scenarios, we're allowing Orman a 50 percent chance of caucusing with the Dems and 50 percent chance of caucusing with the GOP." [DailyKos]
More on Kansas:
-John Sides says it's too early to tell how the Kansas Senate race will play out. [WashPost]
-Nate Cohn says Orman's a real contender. [NYTimes]
-Cook Political Report moves the race from Likely R to Lean R. [@jennifereduffy]
VIEWS OF THE JOB MARKET, BUT NOT ECONOMIC OPTIMISM, RISE - Pew Research: "In advance of Friday's jobs report, the public's assessment of job availability in their local communities has improved modestly. But that has done nothing to boost overall economic optimism. For Americans, jobs are only part of the economic picture: 56% say their family's incomes are falling behind the cost of living. That is about as many as said their incomes were falling behind in October 2008 (57%), during the Wall Street financial crisis. And 45% say they have experienced one or more serious financial hardships – such as a job layoff, an inability to pay for health care or trouble with a collection agency – over the past year. Among those with low family incomes (less than $30,000 a year), fully 66% have confronted at least one serious financial problem." [Pew]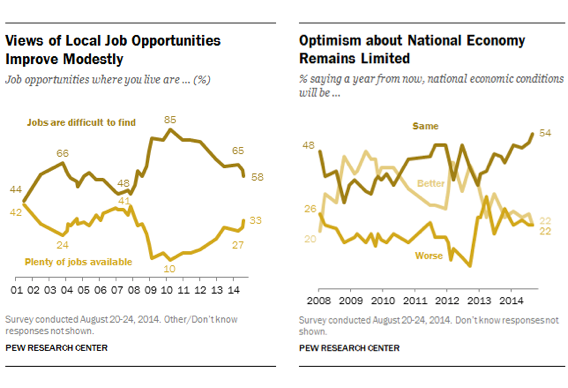 OBAMA'S APPROVAL HITS 38 PERCENT ON GALLUP - As a handful of news outlets including the New York Post, The Washington Times, the Daily Caller and Breitbart note, this is tied with his record low rating, which Gallup editor-in-chief Frank Newport attributes partially to a string of foreign policy crises. [NYPost]
Is it a 'blip'? - Jonathan Bernstein: "BHO Gallup approval down to 38, post-2011 low (almost certainly just a blip, watch polling averages, etc.)...Unlikely he's dropped ~4 pts. Could certainly be indication he's dropped some." [@jbplainblog]
What the polling average says - HuffPollster's Obama approval chart shows Obama's approval so far remaining steady at just below 43 percent, even with the chart set to "less smoothing" to allow for the possibility of a sudden change. It also shows how tracking polls can vary on a day-to-day basis -- which is why an unusually high or low number, while it can be a sign of future change, may also be statistical noise. [Pollster chart]
POLL FINDS ARKANSAS A DEAD HEAT - Mark Preston: "Rep. Tom Cotton has a 2-point advantage over Democratic Sen. Mark Pryor in a new CNN/ORC International poll of the political knife fight for the U.S. Senate seat in Arkansas. Cotton's 49%-47% edge over the incumbent falls well within the survey's 4.5% margin of error, essentially making this race, which will help determine who controls the Senate, a dead heat two months before Election Day….The poll shows that each candidate is winning his party's traditional political voting blocs, except Cotton appears strong with a key subset of the national Democratic Party's most faithful supporters -- a data point that is likely to raise a red flag among party elders and strategists. While Pryor holds an 8-point advantage over Cotton with likely women voters overall, Cotton is favored by likely voters among white women by 11 points. Losing a key constituency to an opponent by such a large margin could be devastating." [CNN]
Previous surveys also show a close race - HuffPost Pollster's model, not yet include the CNN/ORC, gives Pryor a 53.8 percent chance, or essentially even odds, of winning. [Pollster]
HUFFPOLLSTER VIA EMAIL! - You can receive this daily update every weekday morning via email! Just click here, enter your email address, and and click "sign up." That's all there is to it (and you can unsubscribe anytime).
FRIDAY'S 'OUTLIERS' - Links to the best of news at the intersection of polling, politics and political data:
-Sean Trende says the current polling understates Republicans' prospects, and predicts undecideds will move toward the GOP. [RCP]
-California Gov. Jerry Brown (D) is leading his Republican rival by double digits. [Field]
-Two Massachusetts polls find Martha Coakley (D) leading Charlie Baker (D) by nine points in Massachusetts [UMass Lowell, MassINC]
-Steve Koczela explains the differences between Massachusetts primary polls; finds support for Steve Grossman higher with perennial Democratic primary voters. [WBUR]
-Sandra Fluke's internal polling puts her ahead in her race for California State Senate. [RCP]
-Americans are pretty confused as to where the U.S. is actually bombing. [YouGov]
-A majority of Americans do not think tougher economic sanctions will stop Russian aggression. [YouGov]
-Most Floridians want the minimum wage raised to at least $9 an hour. [SurveyUSA]
BEFORE YOU GO
PHOTO GALLERY
Aging in Office