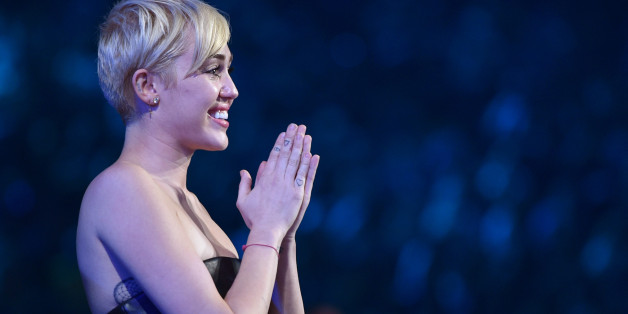 It wasn't enough that Miley Cyrus' acceptance speech (or lack thereof) at last month's VMAs had nothing to do with music and everything to do with youth homelessness. Now, she's taken the critical issue to Facebook, engaging her more than 49 million fans regarding the crisis.
Cyrus had opted out of giving a speech at the Aug. 24 awards show, letting homeless 22-year-old and VMA date Jesse Helt take the mic instead. Helt accepted Cyrus' prize "on behalf of the 1.6 million runaways and homeless youth in the United States," and Cyrus seized the moment to help raise more than $200,000 for LA-based youth homeless shelter My Friend's Place within 24 hours, the New York Times reported.
But the star's commitment to young people like Helt didn't end with the event.
Last week, Cyrus used Facebook to fight back against the media's attention to Helt's troubles with the law, focusing instead on her Prizeo fundraising page collecting funds for My Friend's Place. Cyrus used the post to interact with fans who were touched by the singer's admirable mission.
Facebook user Tokilupe Havea shared her story on the post's thread, saying she "had nothing in the world but the clothes on [her] back" but is alive and well today because of homeless youth services. Cyrus responded to Havea, praising the now mother of two:
Thank you so much for your story ... It is so important for people to see the change that they can make in the world. So beautiful that you can share this story with your daughters and it will keep them inspired to always help others ... (which the best thing we can do is Inspire children because THEY are the future!). My friends place is a special safe place for young homeless youth and I thank you personally for the support.
Cyrus interacted with other users sharing personal stories as well, discussing the importance of combating the root causes for youth homelessness and the fact many people "take for granted" stable roofs over their heads.
A 2002 study by the Department of Justice estimated there were 1,682,900 homeless and runaway youths in the U.S., the National Coalition for the Homeless reported. The majority of homeless youths are in such circumstances because of three inter-related categories, the coalition states: family problems, economic problems and residential instability.
"Just a few miles from where I live in Los Angeles, there are young people living on the street who come to this city with big dreams just like all of us," Cyrus wrote on the Prizeo page. "This campaign is about helping homeless youth have opportunity to find their inner power and potential -- no matter what their circumstances."
To donate to My Friend's Place and be entered to win a VIP concert experience in Brazil with Cyrus, visit the fundraiser page.
h/t Mashable
BEFORE YOU GO
PHOTO GALLERY
Miley Cyrus VMA GIFs