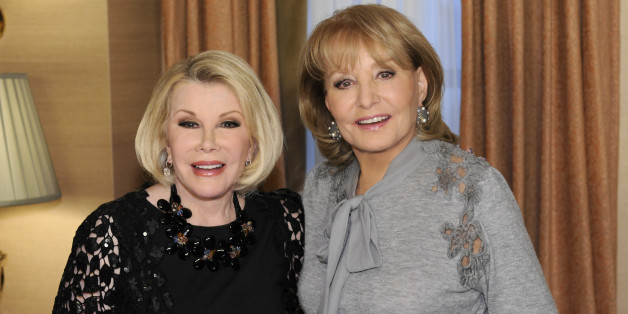 There are some celebrities who were lucky enough to have known Joan Rivers not only as the legendary comedian that she was, but also as a friend.
Barbara Walters and Anderson Cooper shared some of their own private memories of the star, died on Thursday at the age of 81.
In a special for the New York Daily News, Walters gave a moving description of their decades-long friendship. She called Rivers a " trailblazer" for female comedians and wrote about what she was like not only on the stage, but in the comfort of her own home.
"Her stage act was very raunchy," Walters wrote. "Frankly she did almost anything for a laugh. Anything to get an applause. And boy did she make them roar. But in her private life, she was very elegant."
Walters admitted that there may have been some "competition" between them when they first met at NBC, but said they moved far past that in later years. She wrote openly about Rivers's insecurities, her husband's suicide, and her daughter Melissa, who Walters said was Rivers's "greatest success."
"Above all else, she loved to work — because more than anyone I've ever known, she needed the praise and the warmth of an audience," Walters wrote.
Cooper revealed some surprising information on his show Thursday night, saying that while he now loves and respects Rivers, he didn't always have the best feelings towards her.
"As a kid, I didn't like her because she actually made fun of my mom," he said. "I found it upsetting to see her making fun of my mom. But as an adult, once I actually got to know her, I came to really like her and appreciate her."
Other stars who shared a personal relationship with Rivers have been coming out with their own tributes. Kelly Osbourne and Giuliana Rancic, who both worked with Rivers on E's "Fashion Police," shared especially heartfelt words Thursday when they heard the news.
(h/t: Mediaite, New York Daily News)