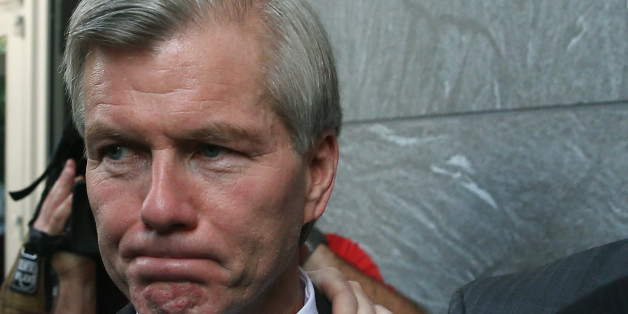 So, that happened: Former Virginia Gov. Bob McDonnell's (R) career as a professional defendant has finished its first big story arc, with he and wife Maureen being convicted of 20 counts of corruption between them. The convictions were, perhaps, the result that close observers could have seen coming a mile away. What no one could have predicted at the beginning of this trial was the desperate and shameful gambit that McDonnell would embark on to clear his name -- effectively slut-shaming his wife and throwing what remained of a disintegrating marriage on the trash heap.
The McDonnell trial was a thing that we couldn't believe existed -- something that started with basic political corruption and then entered a demented universe of emotional wreckage.
Huffington Post hooligans Zach Carter, Arthur Delaney and Jason Linkins discuss just how unusual the McDonnell trial was in this Saturday's podcast, which you can enjoy by clicking the player above. In addition to the McDonnell trial, they discuss this week's disappointing jobs report, as well as a terrifying thing that might come to Washington, D.C., if no one stops it -- the 2024 Olympic Games.
(This podcast was produced and edited by Ibrahim Balkhy, with assistance from Chris Gentilviso, Brad Shannon and Adriana Usero.)
Have a story you'd like to hear discussed on the weekend podcast? Email us at your convenience!
BEFORE YOU GO
PHOTO GALLERY
Bob McDonnell Through The Years