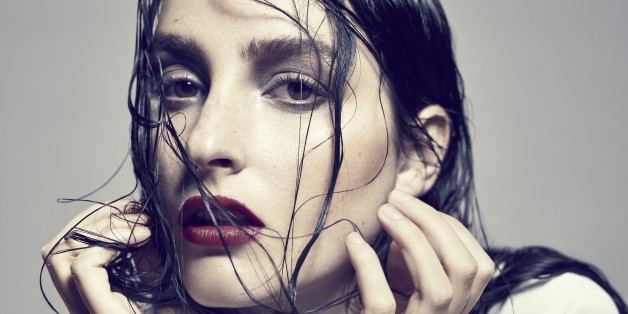 "I started liking dirty martinis last night," Jillian Banks exclaimed as she sat down in the lobby of the Dream Downtown Hotel in New York City. "Which was a goal of mine for adulthood. I just think it looks so cool when a woman has a dirty martini. She looks so powerful."
An achievement silly on the surface, it seems to represent a much greater whole for Banks, the Los Angeles singer-songwriter whose stage moniker is simply BANKS. A decade of writing behind her, it's only now that she has decided the time is right for her debut album. Truly enjoying a cocktail may seem nothing more than a drop in a bucket, but when registered in the continuum of years of passionate self-development, the value becomes clear.
The 14-track "Goddess" is a melange of emotions without sacrificing the palatable stability one looks for in an album; none of the songs sound out of place. An unabashed and unfiltered track record, BANKS captures the capricious nature of her growth. Speaking with HuffPost Entertainment, she discussed embracing the volatile humanness, the variety of production and songwriting, and structuring her live performance.
What is your idea of "goddess" and why did you choose that as the title of your album?
It's just a theme since I started writing. Throughout all my music, it's to be honest and to accept feelings strong at times, weak at times, fragile at times, empowered, sexy, scared, angry, aggressive at times. All of these things make me feel powerful and liberated to be able to write about, and that makes me more of a goddess, accepting and embracing those things. I just want to highlight being human because every woman is a goddess and sometimes you can feel ashamed of being a human, and you just shouldn't be.
There's that traditional concept of the word "goddess" that we think of as perfect, but you seem to be finding perfection in the imperfection in your songs. There's some where you come out really strong and others where you are heartbroken.
It's funny because I've been reading this -- I travel so much now and I like to read Greek mythology and stories just to get my mind off my real life. It feels so far away and I'm reading a lot about the Greek gods and goddesses, and everything that I think makes you feel weighed down, like guilt, jealousy and greed, are so much in all of the gods and goddesses. Even our traditional gods and goddesses have the type of emotions that, in my opinion, make you the least in tune with yourself. They have the most human characteristics. So what is a goddess? If you are you, and you exude you, and you are comfortable with you, then you're a goddess.
Hell yeah. A lot of the songs on the album have this wicked druggy, ethereal, airy sound. What inspired this sound for you?
It's nothing that I can put my finger on. It's just what I moved towards when I was creating something. Some of my songs are really stripped back, so I think it really just matters what the theme of the song is. It's just the atmosphere that I create. When I'm writing, it's just like the juices, I just really want the atmosphere to magnify your senses. And it's just what I like.
Along with that, these songs have these slow-churning synths and samples, but if you look at a song like "Brain," it's intense. How do you balance those two seemingly contrasting energies?
It's just me. Every human is so layered. And "Brain," that theme is about -- I'm just such a sensitive person and I can pick up people's energies. Throughout my life when I'm around these people who put up these shields around them, and act a certain way, and think, think, think, think, think before they say something in order to have it come off in a certain way, and want to fit in so they're mean. Stuff like that has always driven me absolutely crazy and sometimes when you're in a room with people like that it makes you revert back and feel a little uncomfortable. But then when I take a step back from that, it makes me so angry. The first half of that song is about being a little more soft about it and just feeling a little helpless about it, and then the second is just "Fuck that!"
On the other hand, you have songs like "You Should Know Where I'm Coming From," "Under the Table" and "Someone New," which are stripped-down, straightforward ballads. You grew up playing piano, so what is like writing these types of songs versus ones that are more layered?
Those songs, I just wanted them to be bare because I was feeling so bare when I wrote them. Like with "Someone New" I was at my rawest, and I didn't want to cover it up. And same with "You Should Know" and "Under the Table." I wanted it to be the lyrics and the chord progressions, and the intricacies of the guitar of "Someone New" are so delicate, sometimes that's all you need. But with a song like "Goddess" and "Stick" and even "Fuck Em Only We Know," I wanted this airy, gentle production, but to warm your body inside and out.
I think we've seen a trend in the past few years, especially 2013 and 2014, where a lot of female artists are coming in and escaping the narrow pop realm that has often been handed to them and just kicking ass. Not to say that there haven't been women doing this before, but it seems more visible now. You have artists like Beyoncé, who has been running the game for some time, and then a lot of new artists coming in and taking a big seat, like yourself, almost immediately: Lorde, Tove Lo, Say Lou Lou, NONONO, Yuna, Chvrches and Iggy Azalea. Do you think there has been this upswing in female musical prominence? And if so, where do you see yourself in that?
I don't really know how to answer those questions because I don't really think of that. I just make music. I think every person is so unique, I think every woman is so unique, every man is so unique, every artist is so unique. I can't really place myself anywhere, but I think it's awesome. When people are themselves and I like what makes them special, that's when art starts working, I think. That's it. Machines don't work, robots don't work. I'm bored by robots.
What do you mean by "bored by robots"?
I don't care if I can see a huge machine behind somebody, and you're so polished to a point where we can't even feel you, you're like a robot. Who wants to see that? Who wants to fall in love with that? Who wants to marry that? Who wants to be brokenhearted by that? Even growing up I was drawn to people like Fiona Apple and Lauryn Hill. People like that, that I could just taste.
When it comes to putting this into a live show, you have all these different emotions and vibes to the record. How do you structure that? How do you even emotionally prepare yourself for that?
It's funny, this is all still very new to me, performing. When I first started performing, I would get on stage and I would feel this incredible high. It's like you work out all these endorphins and then all of a sudden, like an hour later, you get really low. I didn't understand it and I thought I was going through some weird mental shit. I talked to a bunch of different artists like Ellie Goulding and all these different people, and it's just such a normal thing because you give so much on stage emotionally and then after you feel empty.
I like to structure my shows where I take people on … like you said, my songs can feel heavy at times, so I wouldn't put songs like heavy, bright, heavy, bright, heavy, bright. It's nice to go in little waves and take people through a story. I wouldn't ever put "Someone New," then "Stick," and then "Under the Table" and then "Goddess." I would want to throw up. It's too exhausting to even think of singing those one after another. I want to make it feel a bit more caramel.
You've put around 10 years into writing before arriving at your debut. What was it that made you realize that it was time to share your music with the world?
I was getting to that point. I had kept it private for so long, for probably a lot of different reasons. I was just ready. I had come to terms with all the reasons I had kept it so private and all of a sudden was ready to let go of all of it. And once I put that into the universe, things started happening where I was given little pushes like, "Yes, let's do it."
My best friend Lily knew this DJ and wanted to send him my songs. Lily is just the girl I would sing to. When we were younger, she was my soulmate. She was the only person who would hear my songs. I would always send her voice memos and ask her if she liked this idea. So she sent it to him, saying "This is Chilly -- that's what she calls me -- This is Chilly, she's by far the spiciest, most electrifying." She speaks the same way I do and just described me and he was like, "I need to meet her." We met at a cafe and he started kind of mentoring me, and I felt really safe, like he really saw me. He took me to the right people and then I started meeting managers and I told him, "I don't want anyone to manage me. I want you to manage me." And so I pretty much just forced him to manage me.
Very persuasive! What do you want people to feel and take from this album?
I don't have a goal of what I want people to take away. I write for myself to live, pretty much, but when people connect with my music, like I played "Someone New" at that Tumblr event last night and people were tearing up and I could just tell they felt it so hard. I want them to feel those songs and I want them to feel "Stick" and be like [empowering hand gestures with fists clenched], and "Goddess." That's it. That's what music is.
This interview has been edited and condensed.
BANKS' "Goddess" will be available for purchase in the United States on Sept. 9.
"Goddess" Tracklist:
1. "Alibi"
2. "Goddess"
3. "Waiting Game"
4. "Brain"
5. "This Is What It Feels Like"
6. "You Should Know Where I'm Coming From"
7. "Stick"
8. "Fuck Em Only We Know"
9. "Drowning"
10. "Beggin' For Thread"
11. "Change"
12. "Someone New"
13. "Warm Water"
14. "Under The Table"
15. "And I Drove You Crazy"*
16. "Bedroom Wall"*
17. "Fall Over"*
18. "Before I Ever Met You"*
*deluxe edition
BEFORE YOU GO
PHOTO GALLERY
Artists To Know In 2014