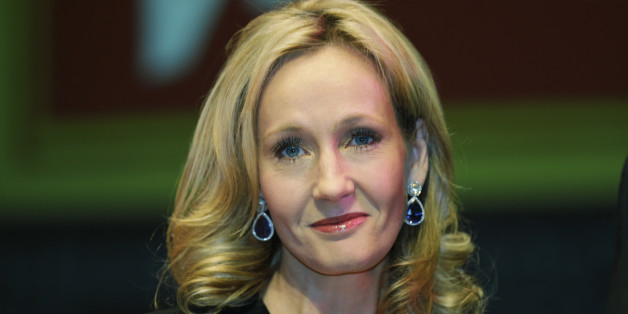 When "Harry Potter" author J.K. Rowling revealed in 2007 that one of the series' central characters, Albus Dumbledore, is gay, she sent shockwaves through the Potter fan community.
Seven years later, she's still getting backlash from those who weren't happy with the author's decision.
Rowling most recently became the recipient of an anti-gay tweet this week in response to a reader's opinions about Dumbledore's queer identity. A now-deleted tweet from @halfelven55ff's Twitter account told the author,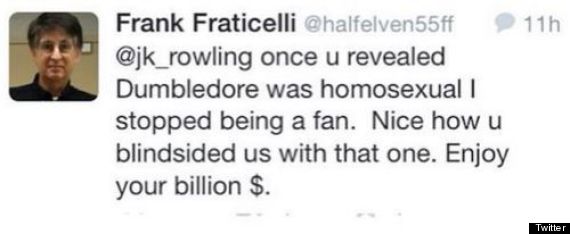 Rowling offered this tweet in response:
@halfelven55ff I advise you to start following Brian Souter at once. He's much more your kind of person.

— J.K. Rowling (@jk_rowling) September 6, 2014
According to The Independent, Brian Souter is the "Stagecoach founder who funded a campaign to try and stop the Scottish government from repealing Section 2A of the Local Government Act... [stating] that local authorities 'shall not intentionally promote homosexuality or publish material with the intention of promoting homosexuality.'"
Rowling's response apparently generated an outpouring of support from her fans, with the author later tweeting:
I want to thank all the people tweeting me lovely messages. Don't worry about me - to paraphrase Albus Dumbledore...

— J.K. Rowling (@jk_rowling) September 6, 2014
If you're waiting for universal popularity, you'll be on Twitter a VERY long time. xxxx

— J.K. Rowling (@jk_rowling) September 6, 2014
Well said, J.K.
(h/t Towleroad)
BEFORE YOU GO
PHOTO GALLERY
Straight Allies