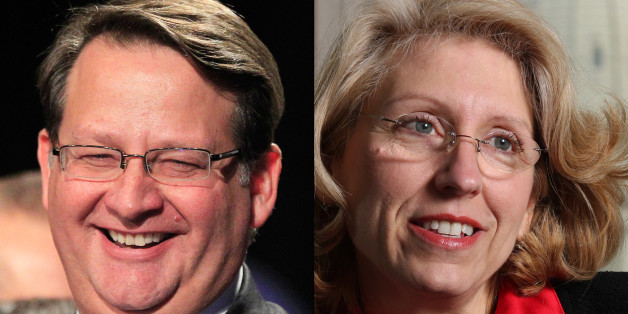 A Democratic congressman running for the U.S. Senate is bringing back Clint Eastwood's conversation with an empty chair to make the point that his Republican opponent has refused to debate him.
Rep. Gary Peters (D-Mich.) will hold a "debate" Monday evening in Grand Rapids after a local television station was forced to postpone one scheduled for the evening because GOP candidate Terri Lynn Land refused to participate.
"Peters will invoke Clint Eastwood and bring a chair to symbolize Terri Lynn Land and her unwillingness to participate in any of the debate invitations both campaigns have received," Peters' campaign wrote in a press release.
Land spokeswoman Heather Swift didn't directly address the question of whether the Republican will debate Peters on Monday, attempting instead to draw a distinction between Peters' time in Congress and his statements as a candidate.
"It's only appropriate that Gary Peters first debate would be against Gary Peters," Swift said in a statement to The Huffington Post. "Congressman Gary and Candidate Gary disagree on the issues that matter to Michigan voters: equal pay for women, profiting off petcoke, enforcing immigration laws, affordable American energy, taking Wall Street to task, and outsourcing. The more people learn about Gary Peters the more they don't trust him because he will say absolutely anything to get elected. From paying women on his staff 67 cents for every dollar he pays a male staffer, according to his own math, despite claiming he supports equal pay, to investing in petcoke, the very substance he says pollutes Detroit, it is clear that Gary Peters stands for nothing and will say anything."
Swift wrote in a subsequent email that the campaign is "evaluating options" when asked once again if Land would debate Peters, who has accepted four separate debate invitations.
Other competitive Senate contests across the country have seen more debate action. In North Carolina, Virginia, Georgia, Kansas, West Virginia, Colorado, Kentucky, Arkansas, Iowa, Louisiana, South Dakota and Alaska, voters have had, or will have, the opportunity to see the party's nominees articulate their positions in real time.
Senate debate negotiations are ongoing in Montana and Oregon. New Hampshire is holding its primary Tuesday, so Sen. Jeanne Shaheen (D-N.H.) has not yet had the opportunity to debate her likely Republican opponent, former Massachusetts Sen. Scott Brown.
BEFORE YOU GO
PHOTO GALLERY
Senate Seats Up For Grabs In 2014