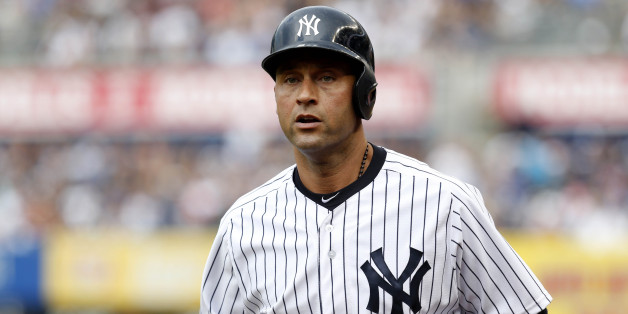 Derek Jeter is best known as the all-star captain of the most-decorated baseball team in the country. But off the field, he's been an amazing support system for one fan battling cancer.
Brielle Saracini, 23, of Yardley, Pennsylvania, has a special friendship with the Yankees player that spans more than a decade. Back in 2001, Saracini was 10 years old when her father, Victor, the pilot of United Flight 175, was killed in the Sept. 11 attacks. She turned to baseball for solace, and wrote a letter to Jeter explaining her story, according to the New York Times. Jeter invited her to a game, and the two established a lasting bond.
Last year, Sarcini was diagnosed with Hodgkin's lymphoma, according to the New York Daily News, and Jeter has continued to be a source of comfort to her.
A month after her diagnosis, the baseball player left an unexpected message on her phone, offering some kind words: "I just wanted to call and say, keep your head up, stay positive and everything will work out just great."
140 characters can't possibly handle my #MyJeterMoment response pic.twitter.com/79IzdLj3Fq

— brielle saracini (@bmsaracini) July 15, 2014
Saracini, who completed 12 rounds of chemotherapy and was cleared from cancer in January, received more support from the baseball star after her disease returned in May.
"You've got to stay positive," he told Saracini before a game in July, according to the Daily News. "You shouldn't worry about statistics or what anybody says. You are going to beat this. Everything is going to be great."
Since their first meeting in 2001, Jeter has consistently worked to bring much-needed positivity and encouragement to Saracini.
"I just want to make sure he knows how much of an impact he's had on my life," she told YesNetwork.com in 2011.
While Saracini was too sick to attend Derek Jeter Day at Yankee Stadium this past Sunday, she told the Daily News that she hopes to see the shortstop play in person again before he retires at the end of this season.
"He's such a genuine person," she told the outlet. "You never get the feeling he's doing it because he has to do it, or that he's going through the motions. You get the feeling that he wants to do it."
BEFORE YOU GO
PHOTO GALLERY
Retrieved: Photo Series Of 9/11 Search And Rescue Dogs