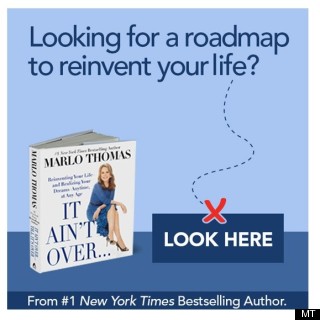 "One of the reasons I started my website is that I wanted a place for women to come together and dream. We women need to know that we don't have to hang on to an old dream that has stopped nurturing us—that there is always time to start a new dream. This week's story is about Lynn Douglas, who left her high-paying job in Silicon Valley after 9/11 to find a more meaningful way to live." —Marlo, MarloThomas.com
Lynn Douglas walked into her boss's office and, exhibiting the same strength and conviction that had catapulted her up the ladder during her 17-year career at the company, abruptly quit.
"It was the first time I'd ever done something so impulsive."
Lynn's career had been her life. She was so dedicated to her job, she'd made a conscious decision not to get married or have kids. And through the nineties, that single-minded devotion to career paid off: She thrived on the challenge of working on contracts with booming Silicon Valley high-tech companies.
But in 1999, her firm was swallowed up by a bigger company, Marsh & McLennan. The result: more bureaucracy, more managerial duties, and less time for personal attention to her customers. "I didn't feel like I could make a difference anymore in this big pond," she says, "so I lost the drive."
To get it back, Lynn decided in early 2001 to take a three-month vacation to reinvigorate her spirits. And what better place than a ski cabin near Lake Tahoe? She'd learned how to ski at age five, taken childhood ski trips to Yosemite with her family every Christmas and Easter, and skied through high school and college. Then life—in the form of her first real insurance job— intervened. Working late into the evenings and many weekends for more than a decade, she'd had no time for the slopes.
But when she was 35 and her friend Danna offered her a spot in a cabin at Squaw Valley, "I immediately took to skiing again," she says. She'd go bell to bell—from the moment the lifts opened to the last chair of the day.
Driving up Squaw Valley Road on Friday evenings, Lynn would often roll down her window to let the absolute stillness surround her. "It's what you don't hear that is remarkable," she says. "I could feel the serenity."
It was that peacefulness she was after during her work break in January 2001. Lynn and a girlfriend skied and skied. She was happy, but torn. Though she wanted this life in Tahoe, she told herself, "You can't have it. Don't get attached. You have to go back to work."
And she did go back to her life in San Francisco and her job at Marsh that April, recharged and ready to bury herself over the next six months in a big project: the company's internal audit.
Two women from Marsh's New York audit department arrived in San Francisco on September 10, 2001. The next day, driving in to work and anxious to hear the audit results, Lynn turned on the radio to breaking news: Two airplanes had just crashed into the World Trade Center. It was so shocking that Lynn didn't believe it at first.
But what startled her more was her reaction as she arrived at her eerily quiet office and everyone was being told to go home.
"I thought, How is this going to affect all the work I put into this audit?" Lynn says. "I mean, really: 'How is this going to affect me?'"
When the office reopened the next day, Lynn found out that all 300 Marsh employees on floors 93 through 100 of the Trade Center's North Tower had been killed. Lynn had briefly met only a few of the victims, but as the announcements came over her email, listing name after name of lost peers, "that's when the wave of tears came," she says. She realized how selfish she had been, how insignificant she, and the work she had done for the audit, truly were. "That was a turning point," she says. "I knew I needed to change."
Lynn looked hard at her own life. The last six months, pouring all of her time and energy into prepping for this audit, why did it matter?
Did she love what she was doing? No. Was it important to her? No. Was she happy? No.
Lynn couldn't quiet the noise in her head.
Article Continues Below Slideshow
PHOTO GALLERY
Lynn Douglas
So three months later, when her boss called her into his office to ask a routine question, she didn't even sit down before blurting out, "I can't work here any longer." He didn't act surprised, nor did he try to convince her to stay. Meanwhile, running through her mind was: How could I have done this? She didn't have another job lined up. What exactly was she going to do next?
But over the next two weeks, as she finished up projects and cleaned out her desk, she felt her body unclench. "I knew I had made the right decision," she says.
Lynn had saved enough money that she didn't have to work again right away, so she headed back up to Tahoe. Three months into her new life, she met a guy on the chairlift named Dave. Fresh off a divorce, he had also left an unfulfilling career to take time off and refocus on his future.
"He had integrity, the kind that comes from really caring about more than just himself," she says. "I wanted to be around that type of person; I wanted to learn from him." And it got even better: He was an avid cook, and when she opened his freezer, she found containers filled with single servings of food he had put away for the week. "He was comfortable being on his own, and I admired that about him," she says. "I knew he was a keeper." Three dates later, she moved in with him.
Just who was this unpredictable woman in the 40-year-old body? Lynn didn't know, but she sure liked her. "Instead of waking up every day with a feeling of dread, I woke up and thought, 'I can't wait to start my day,' " she says. "All of a sudden I'd be- come this other person, and I'd never been happier."
But part of the old Lynn was still in there. She took a job at the Squaw Valley Ski School, first to teach beginner kids and later adults. But then that old competitive drive started thrumming: She wanted to instruct the experts. To do so, she'd need to take a certification exam that had a passage rate of only 15 percent.
Lynn trained for five years, learning to ski anywhere, in any conditions, at any time of day. She studied the physics, physiology, and biomechanics of skiing. And in 2011, at age 50, she aced the test.
Lynn and Dave married; today he works part-time as a consultant and she teaches most winter days when the weather allows. For so long focused on her own success, she now finds joy in watching her students light up when they learn a new trick.
"I have changed so much, and I would never have thought that something as simple as skiing could do that for me," Lynn says. "Letting go of everything I had worked so hard to attain was a huge risk, but the alternative of staying was an even bigger one. I learned to trust myself."
* * *
To hear more about Lynn's journey, and to read 59 other inspiring stories -- buy your copy of "It Ain't Over Till It's Over." Click here.
Add Marlo On Facebook:
Follow Marlo on Twitter:
Sign up to receive my email newsletter each week - It will keep you up-to-date on upcoming articles, Mondays with Marlo guests, videos, and more!