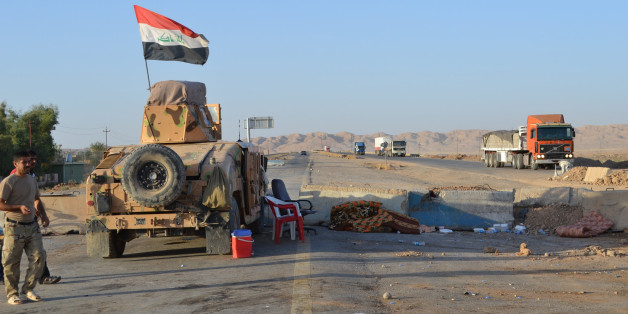 Concerns about terrorism are leading to increased support for airstrikes. A new Kansas poll finds incumbent Pat Roberts vulnerable. And the year's primary cycle is nearly at a close. This is HuffPollster for Tuesday, September 9, 2014.
AMERICANS WORRIED BY ISIS - Mark Preston: "Americans are increasingly concerned that ISIS represents a direct terror threat, fearful that ISIS agents are living in the United States, according to a new CNN/ORC International poll. Most now support military action against the terrorist group. Seven in 10 Americans believe ISIS has the resources to launch an attack against the United States, just days before President Barack Obama plans to address the nation on the subject….The poll released Monday shows that Americans favor [a]dditional airstrikes against ISIS….[m]ilitary aid to forces fighting ISIS…[p]roviding humanitarian aid to people fleeing ISIS...But a majority of Americans, 61%-38%, oppose placing U.S. soldiers on the ground in Iraq and Syria to combat the terrorist group." [CNN]
SUPPORT FOR AIR STRIKES, LOW RATINGS FOR OBAMA - Dan Balz and Peyton M. Craighill: "Americans overwhelmingly view Islamic State terrorists as a serious threat to vital U.S. interests and, in a significant shift, widely support airstrikes in Iraq and Syria, according to a new Washington Post-ABC News poll. The nation's increasingly hawkish mood will form part of the backdrop for a speech by President Obama on Wednesday, when he will outline his thinking on how to confront the threat from the Islamic State. Obama's remarks will come a day after he confers with congressional leaders at the White House about the administration's planning. Obama's speech also comes at a critical moment in his presidency. He will address the nation at a time of record or ­near-record lows in public assessments of his performance….His overall foreign policy ratings are his lowest yet in a Post-ABC News poll." [WashPost]
Why is Obama's foreign policy rating so low? - HuffPollster: "Americans agree with most of the Obama administration's specific policies for taking on ISIS, but that isn't translating to strong approval ratings for the president on foreign policy….This discrepancy has been playing out in response to foreign policy conflicts throughout the year: In April, YouGov polling found that Americans were nearly twice as likely to support sanctions against Ukraine as they were to approve of Obama's actions after he imposed them….In the absence of extensive knowledge of U.S. military actions, many end up relying on other cues, like partisanship...Even among his base, though, the recent string of foreign policy crises may present something of a no-win situation." [HuffPost]
A NEAR TIE IN KANSAS - HuffPollster: "Sen. Pat Roberts (R-Kan.) is running dead even against independent challenger Greg Orman, according to the first Kansas Senate poll since the Democratic nominee announced last week that he was withdrawing from the race. The SurveyUSA poll, conducted for KSN News, gave Orman 37 percent of the vote to Roberts' 36 percent (a difference within the poll's margin of error). Democrat Chad Taylor, whose name will remain on the ballot pending a lawsuit, took 10 percent, with libertarian Randall Batson winning 6 percent and the remainder undecided. [HuffPost]
Pollsters used 'informed' ballot question - Before asking Kansas voters about their choice for Senate, the poll informed them about the race's complicated dynamics, stating that "Democrat Chad Taylor's name still appeared on the ballot even though he no longer wants to run." It also asked two questions before the vote probing awareness of recent events, finding 71 percent aware that Democrat Taylor "has asked to have his name taken off the ballot," and 58 percent who know that "Kansas Secretary of State, Kris Kobach, who is a Republican, has refused to take Taylor's name off the ballot?" As HuffPollster reported on Friday, not all pollsters agree on the best way to survey on the Kansas race, with some saying last week that they would ask voters for their candidate preference first without noting that Taylor didn't wish to compete. Others expected that most Kansans would understand the situation by Election Day. [SurveyUSA, Huffpollster]
Other Senate Updates
-Iowa - A Loras College poll in Iowa finds Bruce Braley (D) leading Joni Ernst (R) by five percentage points. The survey calls landline and cell phones using professional interviewers, and features a sample drawn from the official list of registered voters in Iowa. An earlier Loras College poll in May gave Republican Ernst a four point lead. Three out of the last four Iowa surveys conducted since mid-August give Braley a nominal edge. The new poll help lifts the Democrat's margin slightly on HuffPost Pollster's poll tracking model (to 44 to 40 percent advantage, as of this writing), but the race is still very much a toss-up, with the polling indicating just a 57 percent chance that the Democrat will win in November. [Loras College, Pollster chart]
-National forecast - The sum of all Senate polling nationwide continues to point to a near tossup. The probability of a Republican majority ticked down from 52 to 51 percent on Monday, partly because the new Iowa data. The national forecast does not yet include polling on the Kansas race, but HuffPollster is pondering how to best incorporate new surveys, which like the SurveyUSA poll may take innovative approaches to measuring vote preference in an unprecedented set of circumstances. [Senate Forecast]
Want to know exactly how our Senate model works? Natalie Jackson explains the technical details of how the HuffPollster model averages polls, calculates win probabilities and creates an overall Senate forecast. [HuffPost]
NATIONAL PRIMARIES WINDING DOWN - Samantha Lachman: "Voters in five states go to the polls Tuesday to bring this year's primary cycle to a near close...In Massachusetts, Attorney General Martha Coakley is running for political redemption. And former Sen. Scott Brown (R-Mass.) is trying to return to the chamber to represent New Hampshire, where he could end the state's all-female congressional delegation. While Rhode Island's Democratic gubernatorial primary is competitive, New York's isn't -- though law school professor Zephyr Teachout has still managed to draw attention to some of Gov. Andrew Cuomo's (D) shortcomings for progressive voters." [HuffPost]
HANDICAPPER PREDICTS GOP WAVE ELECTION - Stu Rothenberg: "While the current Rothenberg Political Report ratings don't show it, I am now expecting a substantial Republican Senate wave in November, with a net gain of at least seven seats. But I wouldn't be shocked by a larger gain….My newsletter has the most likely outcome of the midterms at Republican gains of 5 to 8 seats, with the GOP slightly more likely than not to net the six seats it needs to win Senate control….But I've witnessed 17 general elections from my perch in D.C., including eight midterms, and I sometimes develop a sense of where the cycle is going before survey data lead me there. Since my expectations constitute little more than an informed guess, I generally keep them to myself. This year is different. I am sharing them with you….Right now, this cycle looks much like 2010, when Democrats with reasonable profiles got crushed in Republican-leaning and swing states." [Roll Call]
Charlie Cook finds no wave, still bets on GOP - In a column published on Friday, before Rothenberg issued his prediction, fellow handicapper Charlie Cook pondered the apparent lack of a Republican wave: "Now that Labor Day is behind us, the most remarkable thing about this midterm election is how little has changed since Memorial Day...One question has become more pressing as Election Day nears: Where is the Republican wave? For Democrats, the good news is that there doesn't appear to be an overwhelming Republican tide this year; the bad news is that Democrats could well lose the Senate even without such a wave. Six of the most competitive races are Democratic-held seats in states that Mitt Romney carried by 14 points or more. With a map like that, Republicans don't need to dominate the country; they just have to win some select states...[Senate contests feature] no fewer than nine very close races, at least half of them headed toward photo finishes. But three Democratic-held seats are already gone, and party strategists see seven more teetering on the edge, compared with just two for Republicans. Given that equation, you'd have to bet on the GOP. [National Journal]
Skeptical reactions to Rothenberg via Twitter
-Daily Kos modeler Drew Linzer (D): "In which @StuPolitics clarifies the distinction between his official gut instinct and his unofficial gut instinct [links to column]" [@DrewLinzer]
-Daily Kos contributor Taniel (D): "Was Rothenberg looking to confirm every critique the modelers aim at his side? Is this paragraph just a self-parody?" [@Taniel]
-Nate Cohn: "What use are the ratings if you have to write columns with lines like 'even if my current ratings don't quite show it.'" [@Nate_Cohn]
VIRGINIANS AGREE WITH MCDONNELL VERDICT - From a Christopher Newport University release: "More than two out of three Virginia voters agree with the jury that found Bob and Maureen McDonnell guilty in their federal corruption trial, including a majority of voters from the former Republican governor's own party. Voters across party lines also said the General Assembly needs to pass stricter ethics laws for public officials, according to a statewide survey released today by the Wason Center for Public Policy at Christopher Newport University….More Democrats (85 percent) than Republicans (52 percent) and Independents (69 percent) agreed with the verdict." [WDBJ]
HUFFPOLLSTER VIA EMAIL! - You can receive this daily update every weekday morning via email! Just click here, enter your email address, and and click "sign up." That's all there is to it (and you can unsubscribe anytime).
TUESDAY'S 'OUTLIERS' - Links to the best of news at the intersection of polling, politics and political data:
-Fairleigh Dickinson University finds Chris Christie's home-state rating steady but still near post-scandal lows. [PolitickerNJ]
-Andrew Prokop looks at the key disagreements between Senate forecasts. [Vox]
-Seventy percent of Americans favor using federal funds to increase access to high-quality preschool. [Gallup]
-The partisan history of every U.S. Senate seat, in one chart. [WashPost]
-Harry Enten looks at New York Gov. Andrew Cuomo's (D) possible problem with liberals. [538]
-Steven L. Schweizer finds the middle class is slowly becoming more Democratic. [WashPost]
-Nate Cohn argues gerrymandering isn't the only explanation for the small number of House seats Democrats control in Pennsylvania; Dave Weigel counters [NY Times, Slate]
-Congressional job approval sits at just 14 percent. [Gallup]
-Americans like both Medicare and Medicaid, but are split on the the idea of Medicaid expansion. [YouGov]