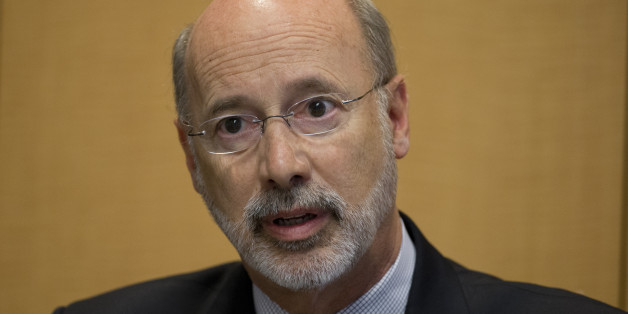 The campaign of Pennsylvania gubernatorial candidate Tom Wolf (D) pulled an ad on Monday featuring a man who once appeared in a porn fetish film.
Alan Benyak, an attorney and former judicial candidate, appears in front of a Jeep and attests that Wolf served in the Peace Corps. Unbeknownst to Wolf's campaign, however, Benyak once starred as Mr. Cannibal in "Breeding Farm."
A synopsis from IMDB describes the film this way: "Four friends are kidnapped by a mysterious man. The friends wake up in a basement, and realize they are part of something horrifying. A human breeding farm. They are to be milked, bred, and much, much worse!"
According to BuzzFeed, the film features Benyak's character torturing "a half-naked woman, buying a woman, force-feeding a woman, engaging in cannibalism, and inspecting a woman as if she is livestock. Other parts of the film include rape, miking a woman and making them act like farm animals, kidnapping, treating women as livestock, riding a woman, physical abuse, and torture."
A spokesman for Wolf said Monday that the campaign was editing Benyak out of the ad.
"We were unaware of Mr. Benyak's involvement in the film, and we are making changes to the ad now," Mark Nicastre told BuzzFeed.
Wolf currently leads embattled Pennsylvania Gov. Tom Corbett (R) by double digits, 53 percent to 34 percent, according to the HuffPost Pollster polling average.
BEFORE YOU GO
PHOTO GALLERY
United States Governors