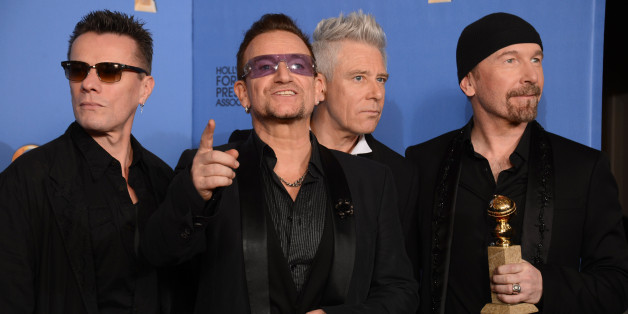 U2 is reportedly taking part in Apple's big event today, in which the tech giant is expected to unveil the iPhone 6 and a new wearable device some have dubbed the iWatch or iTime.
Last week, a U2 spokesperson denied rumors the band would be involved. However, both The New York Times and Irish Times now report that the band will indeed be participating in the event -- although what it will be doing remains a mystery.
The New York Times says the band will perform and announce some kind of tie-in between Apple products and their upcoming album.
That would certainly fit some of the rumors, which suggest there's a stage hidden inside the mysterious white "cube" building Apple has constructed on the grounds of Cupertino's Flint Center, where the event is being held.
"It looked like a sound stage going up for a rock concert behind Flint Center," Cupertino, Calif., resident Frank Mangini told the San Jose Mercury News last month, adding that he saw a light grid above a stage while going for a walk around the building as it was being constructed.
The Irish Times reports that while the band will be at the event, it will not be performing. The paper says the new iPhone will have an exclusive stream of the upcoming album before its release.
In addition, U2 reportedly filmed what might be a commercial or promotional video for the new iPhone in Dublin.
"The focus of the 'video' on the Samuel Beckett bridge last week was a phone," music promoter Stephen Browne, who caught a glimpse of the shoot, posted on Facebook on Sept. 3. "The main actor held the phone in the same position for the whole shoot. A massive stage/white building is being set up right now at Apple for the launch on the 9th. What you think?"
He also posted an image from the scene, which he shared on Twitter this morning:
So it appears this is the first photo of the #apple #iPhone6 my guess was right after all. #U2 at launch today. pic.twitter.com/BKPhOepskU

— Stephen Browne (@Stephenbrow) September 9, 2014
BEFORE YOU GO
PHOTO GALLERY
Early Apple Prototypes