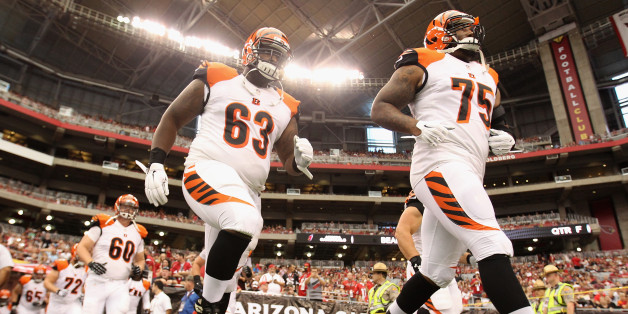 The Cincinnati Bengals have made another big gesture to help support defensive tackle Devon Still and his daughter's fight against pediatric cancer.
On Monday, the Bengals launched a fundraising campaign via the team's online Pro Shop. All proceeds from sales of Still's game jersey, sold at $100 a pop, will be donated to Cincinnati Children's Hospital and pediatric cancer care and research.
ESPN reports that in just 24 hours, sales of Still's jersey set a new team record. Jeff Berding, the Bengals' director of sales and public affairs, told the network that Still's No. 75 jersey has already outsold every other players' jersey in the team's history.
The fundraising campaign even garnered support from the New Orleans Saints, who reportedly purchased 100 of the jerseys.
Just walked into #Bengals pro shop. Phones ringing off hook. And NOW this: #Saints just ordered 100 Devon Still jerseys. #NFL

— Jeremy Rauch (@FOX19Jeremy) September 10, 2014
>
Big thanks for to the saints for ordering jerseys to help support pediatric cancer..only one word to describe everything, AMAZING!!

— Devon Still (@Dev_Still71) September 10, 2014
After his four-year-old daughter was diagnosed in June with stage 4 neuroblastoma, Still admitted he couldn't give football his all and failed to make the team's 53-man active roster.
The Bengals, however, signed him to their practice squad to ensure he could continue to get the health insurance that was paying for his daughter's treatments.
On Tuesday, his story got even better: the Bengals reversed their decision to relegate Still to the practice squad and signed him back on the roster.
"The Bengals have been behind me 110 percent since the news broke, and I'm willing to give them 110 percent when I step out on that field," he told ESPN.
Still's jersey can be purchased at proshop.bengals.com.