Updated 9/11/2014, 5:25 p.m.
She may have only been a 2-year-old pup at the time, but this golden retriever's bravery and service as a search and rescue dog in the aftermath of the Sept. 11 attacks made a true impact on those around her and has not been forgotten.
Bretagne, now 15 years old, was raised and trained by her owner, Denise Corliss of Cypress, Texas. Within two years of Corliss bringing Bretagne home and training her to become part of Texas Task Force 1, a FEMA Urban Search and Rescue Task Force, they received their first work assignment: ground zero.
Last week, Bretagne returned to New York City for the first time since her service in 2001. She and Corliss visited the Sept. 11 Memorial, Today.com reported, and while it could not have looked more different than the rubble they worked through 13 years ago, some emotions remained the same.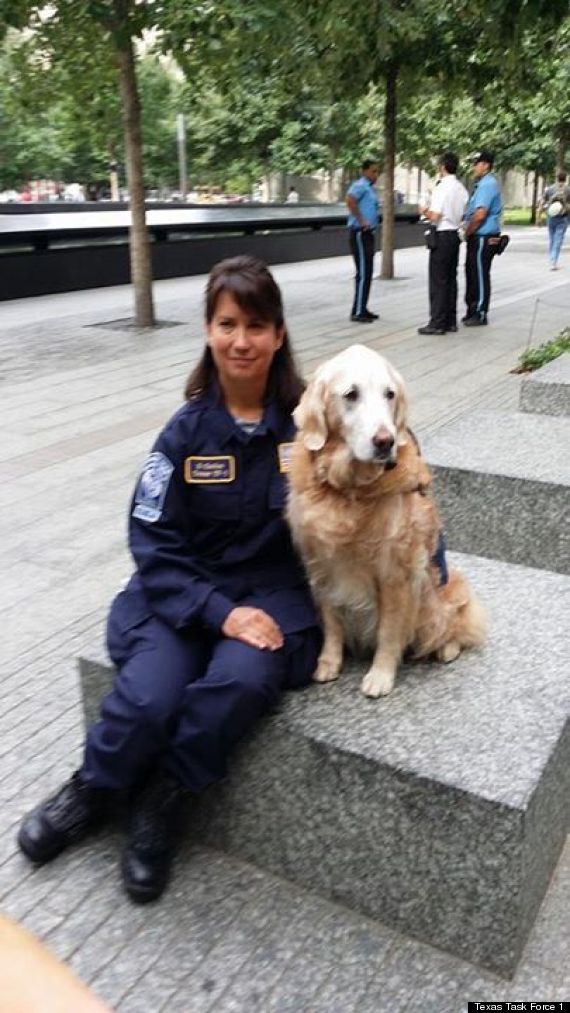 Corliss and Bretagne at the Sept.11 Memorial
"Seeing this kind of took my breath away a bit, similar to how the pile was the first time I saw it," Corliss told Today.com. "It's so calm and peaceful now, unlike the chaos of before. After 9/11, everybody -- all of us -- felt such sadness. We all wanted to help. I just felt so honored that we were able to respond."
Bretagne is, "as far as we know ... the only remaining dog from ground zero," Dr. Cindy Otto, the veterinarian who cared for many 9/11 search and rescue dogs, told HuffPost in an email. Morgan, an English springer spaniel and another known surviving 9/11 search dog, was stationed in Staten Island following the attacks.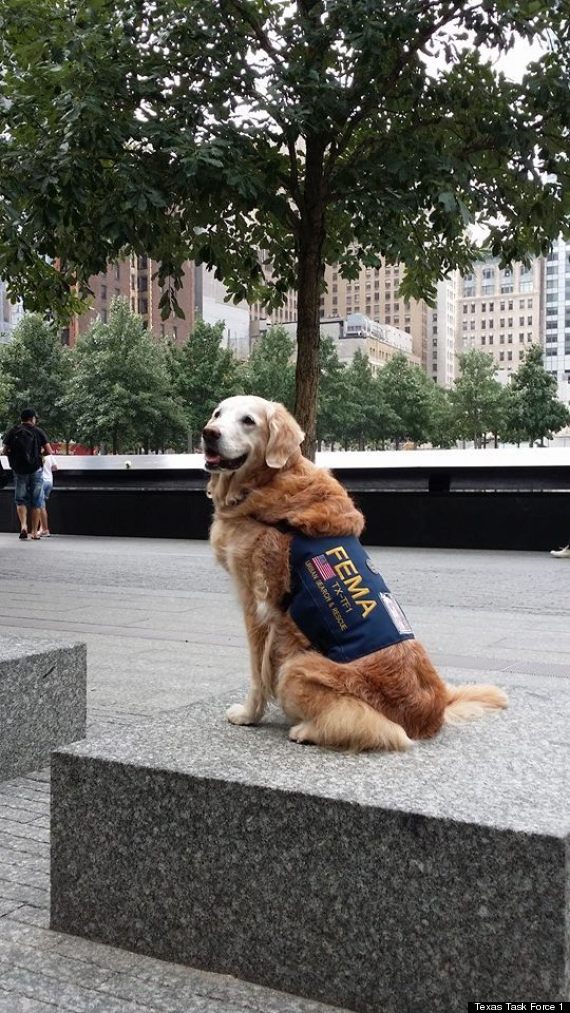 Bretagne at the Sept.11 Memorial
In 2001, Bretagne was young but incredibly focused, Corliss told Today.com. Upon arriving in New York, she completed tough 12-hour shifts of searching through the rubble that was once the World Trade Center for any potential survivors.
"It was her first mission, but she worked it like a pro," Corliss told the New York Post in 2011. "She didn't get cut up or fall or get hurt."
She was also sensitive to the expressions of her fellow rescuers, often acting as a therapy dog to other first responders who smiled as she kept them company during breaks.
"We searched approximately two weeks for survivors at ground zero," Corliss told Click2Houston.com. "The (search dogs) have to have nerve strength to be able to go over collapsed buildings and not be afraid."
After completing her first disaster relief assignment, Bretagne served seven years of active duty. She helped search for survivors after Hurricanes Katrina and Rita, according to the New York Times. She retired in 2008 and now spends her time helping kids learn to read, Click2Houston.com reported.
Earlier this year, Bretagne was selected as one of the eight Hero Dog Awards finalists by the American Humane Association, recognized for her work in the 9/11 relief effort, subsequent years of search and rescue duty, and work after her retirement. She earned $1,500 for Dr. Otto's Penn Vet Working Dog Center, and will win $5,000 for the organization if she receives the most online votes by Sept. 15.
Update: Dr. Otto contacted HuffPost after the publication of this article to say that following the coverage of Bretagne's visit to the Sept. 11 Memorial, another surviving ground zero search and rescue dog has surfaced.
BEFORE YOU GO
PHOTO GALLERY
Retrieved: Photo Series Of 9/11 Search And Rescue Dogs