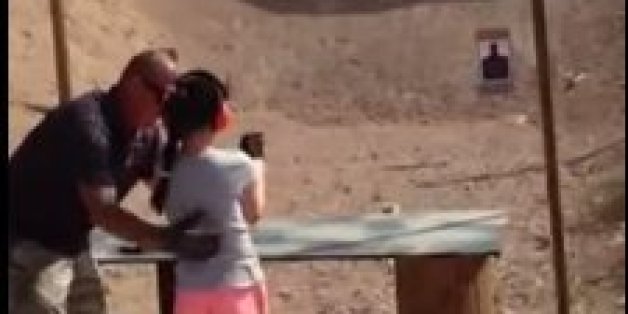 The vast majority of Americans think it's a bad idea to place a military-style weapon in the hands of a small child, a new HuffPost/YouGov poll shows.
The poll was conducted in the wake of a fatal shooting at an Arizona gun range in August, when instructor Charles Vacca was killed by a 9-year-old girl firing an Uzi. Neither Arizona law nor federal statutes prohibit children from using automatic weapons like the Uzi. But just because it isn't illegal doesn't mean Americans think it's right.
According to the new poll, only 26 percent of Americans think it's appropriate for a child under 10 years old to learn how to fire any kind of gun under supervision at a shooting range, while 63 percent said that is inappropriate. Only 7 percent said that it's acceptable for a child under 10 to fire submachine gun like the Uzi, while 86 percent said it's inappropriate.
In fact, an earlier HuffPost/YouGov poll, also conducted after the shooting, found that the median age at which Americans think it's appropriate for someone to learn how to fire a gun is 16. That poll found variation along party lines on the median age listed as most appropriate -- Republicans said 14, independents said 15, and Democrats said 18.
Federal law prohibits individuals under 18 years old from purchasing firearms, and it severely restricts what handguns a minor can own. But in most states, ownership restrictions don't extend to rifles and shotguns, a category known as "long guns." An Uzi can fall into either category, a handgun or a rifle, based on how it is configured and modified. So hypothetically, there are 30 states where a child could legally own an Uzi.
The newest poll also found partisan division over whether it's acceptable for a young child to fire a gun at a shooting range -- only 11 percent of Democrats and 29 percent of independents, but 40 percent of Republicans, said they thought it was appropriate. But the partisan division disappeared when respondents were asked about a submachine gun. Less than 10 percent of Republicans, Democrats or independents said they thought it was appropriate for a child under 10 to fire that kind of gun.
In the case of the instructor, Charles Vacca, who was shot by the girl firing an Uzi, Americans tend to think either Vacca (34 percent) or the child's parents (33 percent) should be held most responsible for the man's death. Nineteen percent said the shooting range was responsible, while 2 percent said the child who shot the gun was responsible.
But few Americans -- only 27 percent -- said they think there should be criminal charges in the man's death, while 55 percent said there should not be. After viewing a video of the shooting taken by the girl's parents, the Mojave County Sherriff's Department said in a statement that "no charges are pending" in Vacca's death. Instead, they said the shooting was "being viewed as an industrial accident."
The HuffPost/YouGov polls were conducted Aug. 28-Sept. 2 and Sept. 4-8 among 1,000 U.S. adults using a sample selected from YouGov's opt-in online panel to match the demographics and other characteristics of the adult U.S. population. Factors considered include age, race, gender, education, employment, income, marital status, number of children, voter registration, time and location of Internet access, interest in politics, religion and church attendance.
The Huffington Post has teamed up with YouGov to conduct daily opinion polls. You can learn more about this project and take part in YouGov's nationally representative opinion polling. Data from all HuffPost/YouGov polls can be found here.

BEFORE YOU GO
PHOTO GALLERY
Politicians Holding Guns