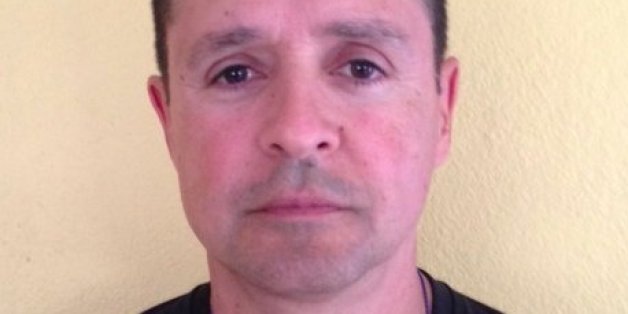 UPDATE, Sept. 9, 2015 -- Firefighter Jimmy Martinez, 24-year veteran of the FDNY, was a 9/11 and Hurricane Sandy first responder. Jimmy selflessly responded to Ground Zero on 9/11 and spent countless days thereafter for the rescue and recovery effort. Years later, Jimmy showed the same courage and dedication on the night of Hurricane Sandy, pushing through heavy winds and neck-deep water to evacuate people from their flooded homes.
Amidst all of this, Jimmy was diagnosed with multiple myeloma on June of 2013 and he's undergone five separate rounds of intense chemotherapy. Just like everything else put in front of him, Jimmy is looking to overcome his disease -- but needs your help. There is a chance that you may be Jimmy's bone-marrow match. Register today and help save Jimmy or another patient in need.
Last year, we highlighted Jimmy's story on Huffington Post, which led to a number of bone-marrow cheek-swab submissions, but unfortunately Jimmy is still looking for a match. As we approach the 14th anniversary of the events on September 11th, we're taking a moment to remember his story -- and hope to find a match to save this honorable heroes life!
-- -- -- -- --
ORIGINAL STORY
Jimmy Martinez, a 24-year veteran of the New York Fire Department, was off duty when two planes struck the World Trade Center on Sept. 11, 2001. Still, he rushed to the scene, and spent the months that followed dedicated to Ground Zero recovery. Last year, he was diagnosed with a form of blood cancer called multiple myeloma, which doctors say was a result of the chemicals he was exposed to during his 9/11 response work. A bone marrow transplant has the potential to save his life, but he can't find a donor. This is his story, in his own words:
I was home watching the news. When the first plane hit, I thought it was an accident. When I saw the second plane hit, all the fractured pieces flying, I knew the scene would be surrounded by emergency responders. So I picked up and drove to my firehouse. While I was getting my gear, the towers started to come down.
We weren't on duty. We didn't have a radio or any other form of supervision. We didn't have any kind of equipment. A mask, anything. Most guys took it upon themselves to go and do what they had to do.
In the beginning, there wasn't really a time structure. It went on erratically. If you weren't sent there by your job, you went there on your own. If you got tired, you came home.
I was assigned to a task force early on that reported to the site to do whatever was called upon us, whether it was searching or operating a pumper to continue to put the fires out. After that, a call was made that the firehouses that lost so many men needed help. So I went back to help my old firehouse [in Brooklyn] get back on its feet.
I lost six men from my old firehouse. There were numerous other guys I knew personally, or our paths had crossed. Every time you looked at the paper or you heard a name or saw a face, you'd go, "Oh my God, not him, too." This went on and on. It was never ending; it was an emotional roller coaster.
But you remained focused, did what you had to do. That's how everybody got through. You take a deep breath, you swallow. You hope you'll recover a little something to give their family closure. All I wanted to do was find something for their families.
I came home so tired that I actually did get some sleep. But I felt very guilty. Coming home to a family, coming home to my son and my daughters and my wife knowing that so many people could not. I felt really guilty during those days.
I was going to so many funerals and memorial services. That's basically what I did on my days off. I'd try to make as many as I could. Sometimes there was someone I personally knew, sometimes not. There was a big hole left in the fire department. As time went on, I moved on somewhat -- but then 9/11 comes back every year.
I've always taken care of my body; I work out regularly and watch what I eat. I try to be physically fit to perform my job to the best of my ability. I was in very good health.
Then I had a physical done last year, and the blood work came back that I was slightly anemic. From there, tests revealed I had high protein levels. A bone marrow biopsy was done, and I was diagnosed with multiple myenoma, a blood cancer. That was the last time I ever worked in the firehouse.
I went from tests to scans that led to numerous chemotherapies. Started out in a pill form at home, led to going in for cycles of chemo injections. I didn't respond to any of that. I was hospitalized twice for five days at a time. Twenty-four hour chemo for five days straight. I didn't respond to that treatment either time.
The doctors were able to collect my stem cells. I went in for my third hospitalization, and there I was given a stem cell transplant using my own stem cells. That was the first time I actually had good news, that the treatment actually worked.
I'm currently in partial remission. Everything is stable; I've just had another bone marrow operation done last week and I'll get the results Friday. If the levels change then we'll have to start another aggressive treatment. I'm under treatment now -- chemo every night.
The high protein levels create bone lesions, basically holes in your bone structure. When that happens you can end up with a broken bone for something as simple as a slight jump or twisting the wrong way. I've had fatigue, rashes, fevers, nausea, pain in my feet, bone pain from some of the medications. You feel like your rib cage is cracked. I have better days than others, but I can't do what I used to. I can't play with my grandson the way I want to.
There's no cure for multiple myeloma. My best hope for some type of longevity is finding a matching donor, which has been very difficult. They started looking at the national registry pretty much the moment I was diagnosed. It's been over a year, and still, we haven't found someone. Hopefully that one person is out there.
One of the main causes is chemical exposure. During 9/11 it was a cocktail of chemicals. It was very windy that day, debris and dust flying all over. In my firehouse alone there's been five men diagnosed with cancer over the past few years including myself. One passed away; he died of lung cancer.
Every firefighter on the job would say if they had to do it all over again, they would. That's the way it goes. There's nothing like having a job where you help people for a living. Any time you go out and come across someone in need, you think about your own family.
And then there's the brotherhood. We work together through thick and thin. Form really strong bonds. I don't know too many other jobs out there that offer that. It's rewarding on so many levels.
Delete Blood Cancer will be holding drives in Martinez's honor at the Steven Siller Tunnel to Towers run in New York City on Sept. 28 and during pre-registration on Sept. 24 and Sept. 26. Learn more about donating bone marrow here.

BEFORE YOU GO
PHOTO GALLERY
September 11th Anniversary