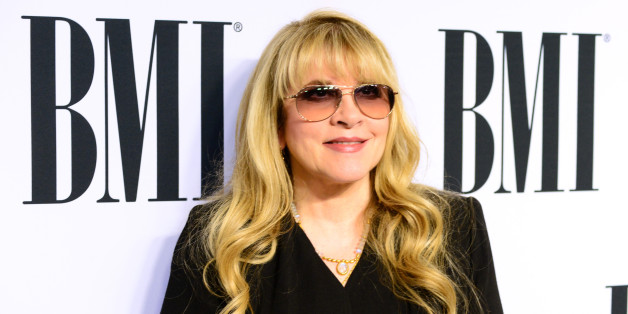 Stevie Nicks has long courted a sizable gay fanbase -- not that it's ever occurred to her in any formal way.
"I can't say that I'm so glad that gay people like my music, because I have never looked at gay people as different from any other people," the singer-songwriter, 66, tells Out magazine's Michael Martin. As for what she'd have done if she herself were gay, she added, "The second that I knew, I would have said, 'OK, everybody, this is how it is, and either you still like me or I don't care.' I think that if you are gay, you just have to say 'It's great!'"
Nicks is currently enjoying the throes of a comeback, thanks to appearances on "American Horror Story," a world tour with Fleetwood Mac and a mentoring stint on "The Voice." She's gearing up to release "24 Karat Gold: Songs from the Vault" on Oct. 7.
Of her newly-released song, "Mabel Normand," which was written about a 1920s silent performer who she described as "the rock star of her time," Nicks noted, "I wanted it to be something that somebody having a problem with drugs can sit down and listen to 5,000 times. Try and let it be an epiphany for you, 18-year-old person that is doing a lot of coke and smoking heroin and taking ecstasy and is on a dead-end road to hell."
She also took time to sound off on Night of a 1,000 Stevies, noting, "I read about it and told my dad, 'It's a huge party that is thrown by fabulous gay men. They love my clothes and my fashion and my songs, and they all go to it and play my music and lip synch!'"
She added, "One day I'm going to show up, and they are not going to know it, because I'm going to be dressed as the best Stevie ever."
Read the full Out magazine interview with Stevie Nicks here.
BEFORE YOU GO
PHOTO GALLERY
Stevie Nicks Style