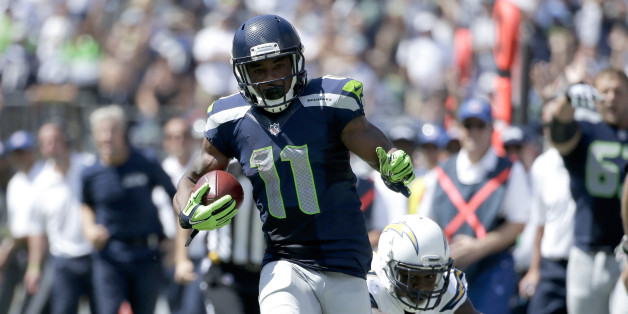 The Seattle Seahawks' first touchdown of their game against the San Diego Chargers should not have counted.
NFL officials determined that Seahawks wide receiver Percy Harvin had given his team the lead in the second quarter after rushing down the left side of the field for a 51-yard touchdown. Missed by the officials on the field as well as the replay official who reviewed the play remotely, Harvin stepped out of bounds during the run.
So Percy Harvin was definitely out of bounds. Wasn't caught: pic.twitter.com/r6Kh5PwQWf

— Will Brinson (@WillBrinson) September 14, 2014
Former NFL Vice President of Officiating Mike Pereira shed some light on why the touchdown was confirmed without reviewing the play.
"On a scoring play, which this was ruled, the replay official and New York will confirm it if they can. If they do confirm it, they don't send it for a review. They confirmed this because they went too fast," Pereira said. "They should have waited for all the replays because if they had seen this, they would have stopped it. They didn't. It stood as a touchdown. It shouldn't."
The blown call ultimately didn't end up costing the Chargers, who went on to defeat the defending Super Bowl champs 30-21. After the game, the NFL admitted that the touchdown should not have counted.
"Had the game been stopped for a replay review, the touchdown would have been reversed because Harvin stepped out of bounds at the San Diego 21-yard line," the league said, via the Associated Press.
Watch Harvin's touchdown that shouldn't have been below.
BEFORE YOU GO
PHOTO GALLERY
PHOTOS: NFL Week 2