It should've been a somber affair, but that wasn't Pvt. Kevin Elliott's style.
While on a break from serving in Afghanistan, Elliott gave his best friend, Barry Delaney, specific instructions were he to die in action. The Dundee, Scotland, soldier made Delaney promise that he would wear a bright dress and socks to his funeral, the Guardian reported back in 2009.
When that day came in September 2009, Delaney made good on his vow. He squeezed into a tight green number and sported equally as stunning pink socks to match.
Five years after Elliott's death, those unconventional, yet poignant photos are making their way around the web again.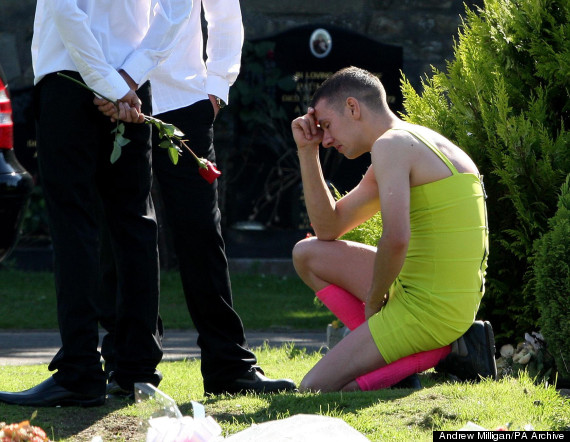 While patrolling on foot, Elliott died on Aug. 31, 2009 in an explosion caused by a rocket-propelled grenade in the Babaji district, Helmand province, according to the British government.
The 24-year-old, who had already served in Iraq and Northern Ireland, was actually on the verge of the leaving the Army earlier that year. But, Elliott was a "big team player" and always the first to volunteer to protect his colleagues, so he caught the last transport back to Afghanistan, Lt. Col. Stephen Cartwright, commanding officer, said in a statement.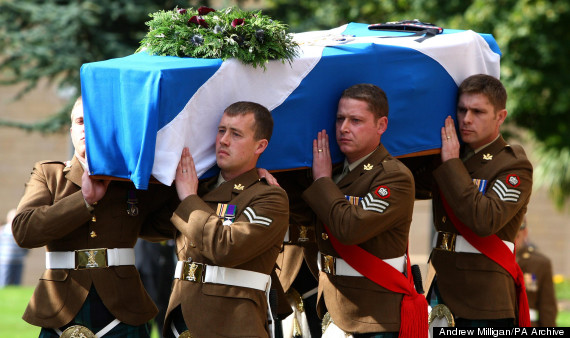 The coffin of soldier Private Kevin Elliott, 24, of the Black Watch, leaves St Mary's Church in Dundee.
While Elliott was undeniably brave in the face of danger, he confided in Delaney about his combat concerns.
A month before he died, when he was home for a two-week hiatus, he told Delaney how he worried about the increasing number of booby traps and that if he returned to Helmand, he might not make it out alive, the Guardian reported.
When Elliott's fear was realized, Delaney didn't hesitate to keep his promise. While honoring Elliott at St. Mary's Church in Dundee, Delaney knelt down at his friend's grave.
"I was bending down to ask him if he liked the dress' color," he told the paper.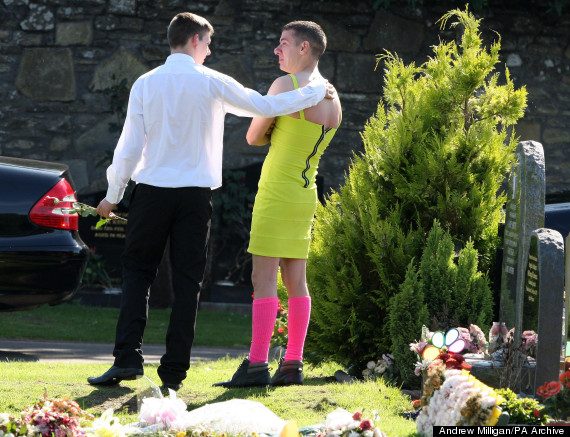 BEFORE YOU GO
PHOTO GALLERY
Love In One Photo