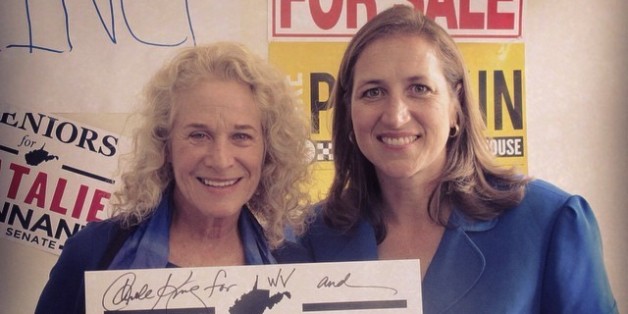 Award-winning singer Carole King campaigned on Sunday in support of West Virginia Secretary of State Natalie Tennant's (D) bid for a U.S. Senate seat, according to The Charleston Gazette.
King focused on the topic of equal pay for men and women, telling a crowd in Kanawha County that "if momma is making more money then the family has more money and a little of the pressure comes off you."
"How can anybody not be for equal pay?" she asked.
Tennant's GOP opponent, Rep. Shelley Moore Capito (W.Va.), has previously said that "women absolutely deserve equal pay for equal work," though she has often voted against measures that would help advance that cause.
Tennant has been a strong proponent of the Paycheck Fairness Act, which would, among other things, "prohibit retaliation against employees who share their salary information with each other."
King has campaigned for numerous Democratic Senate candidates in the 2014 cycle, including Michelle Nunn of Georgia, Sen. Kay Hagan (N.C.) and Rep. Bruce Braley (Iowa). She appeared at a fundraiser for Sen. Mark Udall (D-Colo.).

HuffPost Pollster, which combines all publicly available polling data, has Capito leading Tennant in the November general election:
BEFORE YOU GO
PHOTO GALLERY
2014 Election: $500,000-Plus Super PAC Donors