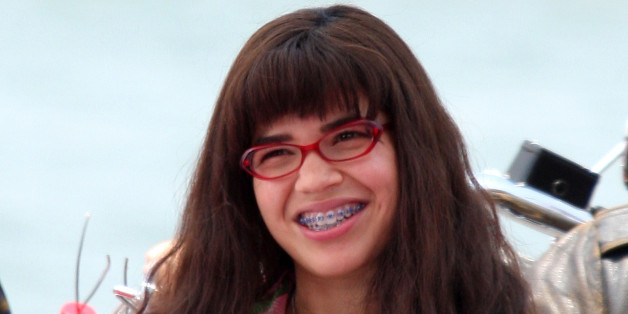 With thick-rimmed glasses and an unwavering optimism, Betty Suarez taught thousands the meaning of true beauty in ABC's hit series "Ugly Betty" until the show's end in 2010. Four years later, could it be time for a reunion?
Salma Hayek, who helped adapt and executive produce the series, recently spoke to E! about the possibilities of a reunion.
"I would love to," Hayek said at the Toronto Film Festival, where she was promoting her animated adaptation of Kahlil Gibran's "The Prophet."
Despite her desire to reunite the cast of a show that has "such a special place in my heart," the Mexican actress said she thought it was unlikely to happen anytime soon.
"Ugly Betty" premiered on ABC in 2006. It came to life thanks to Silvio Horta, who adapted the series from the global sensation that was Colombia's telenovela "Yo Soy Betty, La Fea."
ABC's version starred America Ferrera as the titular character and was a huge step for Latinos in entertainment in the United States due to its massive mainstream success.
While there might not be a Betty reunion on its way, fans of the series will be happy to know that Horta is working on a new project for NBC.
According to EW, earlier this month the Cuban-American writer and producer was given a script commitment for "The Curse of the Fuentes Women."
Horta's new series follows the story of the women in the Fuentes family and how their lives are changed after a young man washes up on Miami Beach claiming to be a long-lost relative from Cuba. The show, according to Deadline, uses "the Latin American tradition of magical realism and explores the power of memory and mythology in shaping our destinies."
BEFORE YOU GO
PHOTO GALLERY
10 Interesting Things About Salma Hayek