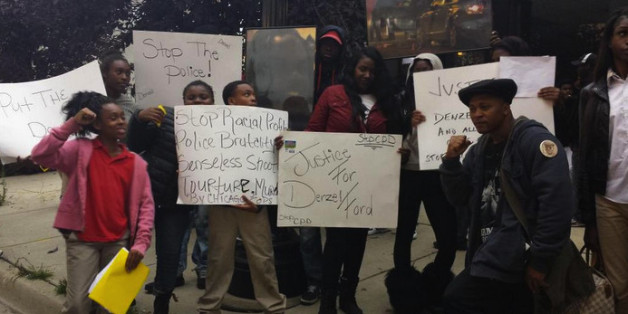 Protesters again hit the Chicago streets after local police shot a young black man over the weekend, the third incident of its kind in as many weeks.
The rally, which took place in the city's Near West Side neighborhood, was held in direct response to officers shooting Denzel Ford, 20, while in the process of attempting to arrest him Saturday evening for alleged involvement in the selling of narcotics. Outcry over the recent shooting follows weeks of heightened national scrutiny of police shootings in the wake of the killing of unarmed Missouri teen Michael Brown.
As police tell it, officers tried to apprehend Ford as he was sitting in a car in the city's West Town neighborhood during a narcotics investigation, the Chicago Tribune reported. Ford allegedly refused to exit the vehicle and instead drove the car into an officer, causing the officer to fall to the ground. Police say when Ford attempted to accelerate toward the officer on the ground again, another officer opened fire.
Ford was taken to Stroger Hospital in critical condition after he was shot multiple times in the upper body, according to the Chicago Sun-Times. The officer he allegedly hit suffered minor injuries. No updates on the condition of the officer or suspect were available at publication time.
The shooting is now under investigation by the city's Independent Police Review Authority.
DNAinfo Chicago reports that Ford was charged Monday with a total of five felonies: one count of attempted murder, two counts of aggravated battery to a peace officer, one count of aggravated battery and one count of possession of a controlled substance.

Protesters dispute the official account of the incident, which comes within three weeks of the fatal shootings of two black teens at the hands of the Chicago Police Department.
(Story continues below.)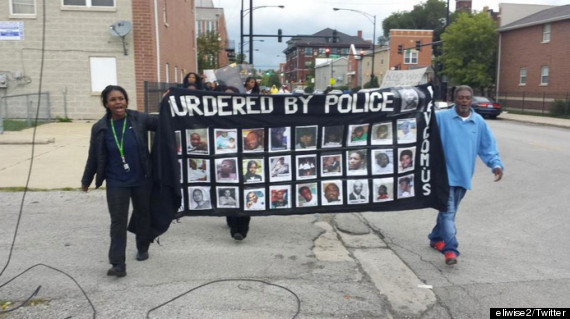 Protesters marched on Monday at the rally for Denzel Ford. (Elijah Edwards, AFSCME Local 2858 Chicago)
Speaking at Monday's rally near the site of the shooting, Ford's father, Ricky Ford, accused police of not allowing him to see his son in the hospital.
"This needs to stop. This police shooting needs to stop," Ricky Ford said, according to the Sun-Times. "He wasn't armed, so why would they shoot him four times?"
"The worst gang in Chicago is the police department," another speaker at the rally, Fred Hampton Jr., reportedly said.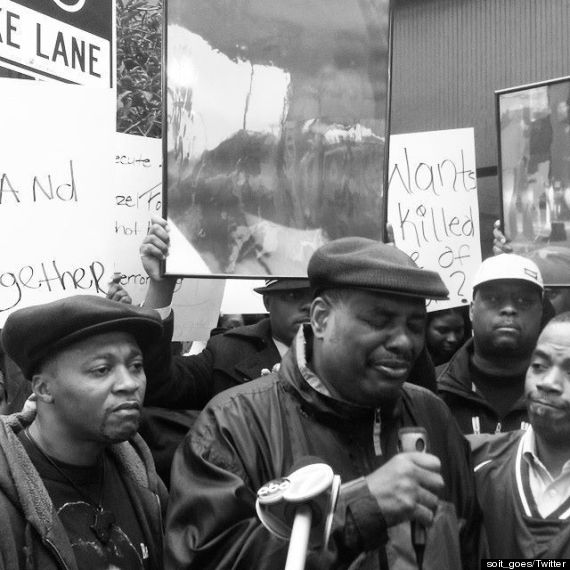 Ricky Ford, Denzel's father, tears up as he speaks at Monday's rally. (Matt McLoughlin/@soit_goes)
A recent analysis found black Chicagoans were 10 times more likely than whites to be shot by police. In 2013, black Chicagoans accounted for 67 percent of the city's police-involved shootings.