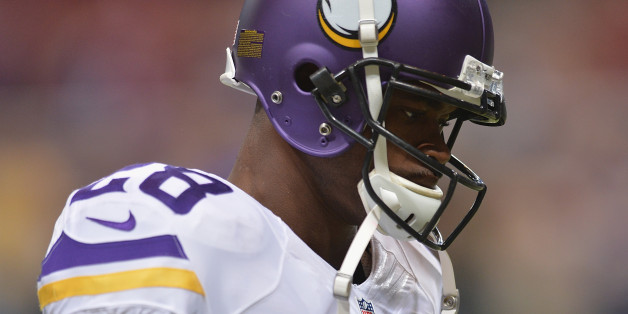 Minnesota Gov. Mark Dayton disagrees with the Minnesota Vikings' handling of the situation involving child abuse allegations against star running back Adrian Peterson. Dayton issued a statement on Tuesday, calling on the Vikings to suspend the 2012 NFL MVP "until the accusations of child abuse have been resolved by the criminal justice system."
Here's Dayton's full statement, via KARE 11 in Minneapolis:
It is an awful situation. Yes, Mr. Peterson is entitled to due process and should be "innocent until proven guilty." However, he is a public figure; and his actions, as described, are a public embarrassment to the Vikings organization and the State of Minnesota. Whipping a child to the extent of visible wounds, as has been alleged, should not be tolerated in our state. Therefore, I believe the team should suspend Mr. Peterson, until the accusations of child abuse have been resolved by the criminal justice system.

However, I will not turn my back on the Vikings and their fans, as some have suggested. The Vikings belong to Minnesota –- and in Minnesota. This has been the team's only home; and our citizens, including myself, have been its most dedicated fans.
Peterson was indicted in a child injury case in Texas last week. The case stems from an incident occurring in May in which Peterson used a small tree branch as a switch to discipline his son. The Vikings deactivated Peterson for their game on Sunday, but reinstated him on Monday.
Hours after the team announced the decision to activate the 29-year-old, KHOU-TV in Houston reported that Peterson has been also reported to Child Protective Services over separate child abuse allegations involving another one of his young sons.
During a press conference on Monday, Vikings general manager Rick Spielman said Peterson "deserves to play" while the legal process unfolds.
"It has nothing to do with him as a football player," Spielman said, via USA Today Sports. "It has to do purely on the facts that have been presented to us."