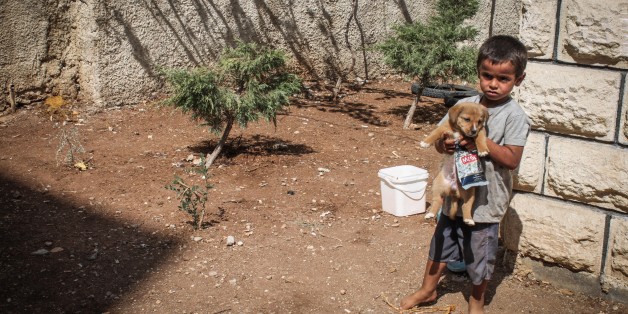 KILIS, Turkey -- Outside of a Turkish bus station, weary travelers shuffle past a taxi driver shouting "To the fence!" in Arabic, offering rides to those wanting to be smuggled across the Syrian border just a couple of miles away.
A Syrian family with five young boys sits cross-legged in the dirt nearby, meager belongings strewn around them. But unlike those who pass by in a hurry, this family has nowhere to go.
Syrian regime airstrikes flattened their home in Aleppo, Syria's largest city, three months ago. Barefoot and terrified, they fled with nothing but their lives -- no valuables, no passports, no plan. Like many Syrians who have come before them, they hired a smuggler to take them across the border to Turkey. Now, this family of seven is homeless, hungry and waiting for the end of what seems like an endless war. And they aren't alone.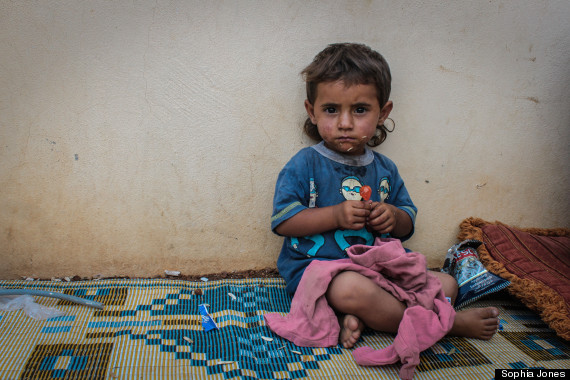 A homeless Syrian child living outside of the bus station in Kilis, Turkey.
Three and a half years into a bloody civil war, more than 3 million Syrians have fled their country in shambles for neighboring Turkey, Lebanon, Jordan, and Iraq. An estimated 1,350,000 Syrian refugees have fled to Turkey, both legally and illegally, according to recent UN statistics. Turkey is struggling to support the massive and desperate refugee population, with Ankara spending well over $2.5 billion to accommodate the steady influx of people.
Over half a million are unregistered, and most are living outside of state-run camps, leaving them vulnerable and on their own as they attempt to navigate a foreign land. Across the country, they can be seen almost everywhere: Begging on chic streets, laying heavy concrete blocks as they work to construct Turkish homes, and sleeping outside of bus stations like this one. While some Syrians have found a good life here, others say it's just another hell.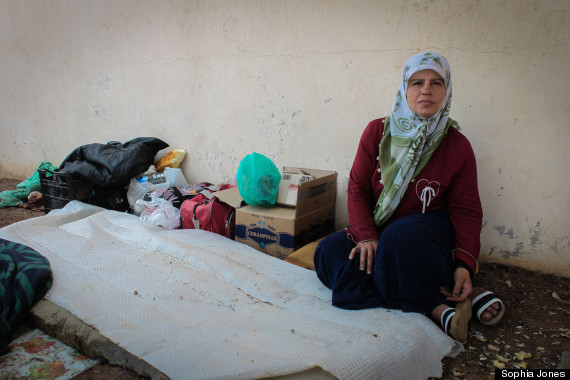 A Syrian woman sits in her makeshift home outside of a bus station in Kilis, Turkey, where she now lives after fleeing Syria.
"Life is just as hard here as in Syria," lamented homeless Mohamed Abu Jamaa, the father of the five boys. They have no roof over their head here, nothing to shelter them from rain or sun. But there is nothing left for them in Syria. "We can't go back," he said. "Because of my kids."
Many Syrians like Abu Jamaa who cross the border have no idea where to go to receive humanitarian assistance or medical attention, or to get access to housing. And Turkey's many refugee camps, renowned for their services, are nearing capacity or already full. Some Syrians interviewed by The WorldPost, including families living outside of the Kilis bus station, say they've managed to rent apartments, only to be cheated out of money or evicted without cause. And for many Syrians who have successfully rented homes, the money often runs out eventually, as refugees have little means to work legally in Turkey.
"Housing is a huge, growing problem," explained Amnesty International's Turkey researcher Andrew Gardner. "Of the Syrians Amnesty has spoken to, their first concern was housing."
There just isn't enough cash for Turkey or for international aid organizations to adequately deal with the huge scale of the refugee crisis, Gardner said. And it's only getting worse as the war drags on through a fourth year with no signs of abating.
"Even if Turkey could open enough camps, it's not a long-term solution to the situation," he added. "The primary responsibility is on the state, but we can't leave responsibility just on neighboring countries [to Syria]. The international community has to accept greater responsibilities."
The UNHCR in Turkey did not respond to The WorldPost's requests for comment. Neither did the Disaster and Emergency Management Authority of Turkey, the government agency responsible for aiding Syrian refugees.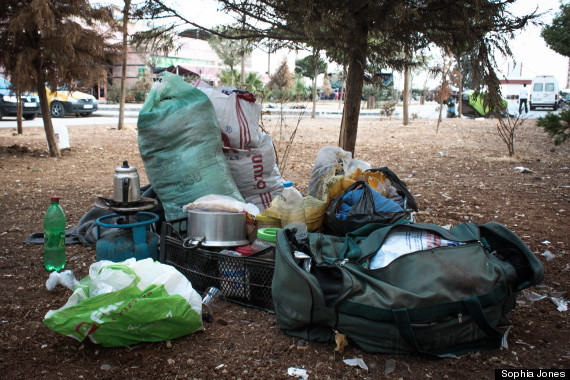 The meager belongings of a Syrian family living outside of the bus station in Kilis, Turkey.
Here at the Kilis bus station, Abu Jamaa's family members collect whatever they can find to survive: blankets, a few pieces of clothing, a coffee pot, and sometimes, bread. The people inside the station -- mothers with young children, families lugging heavy bags, foreigners sporting long beards common among Islamist fighters -- barely blink at the homeless Syrians. Many of them have fled Syria themselves or are on their way back, either out of desperation or to help those still inside -- or to fight.
Abu Jamaa said his family has been robbed twice by other Syrians who stole his phone and his wife's wallet. They mostly rely on begging and charity now, with the occasional passerby giving them food, whether it's a hot meal or a few lollipops for the kids.
"They get hungry," Abu Jamaa said, humiliated, as his boys played with a scrawny, hungry-looking puppy kept in cardboard box close by. The children have little to play with, and no school to attend. "They're used to this life of hunger now."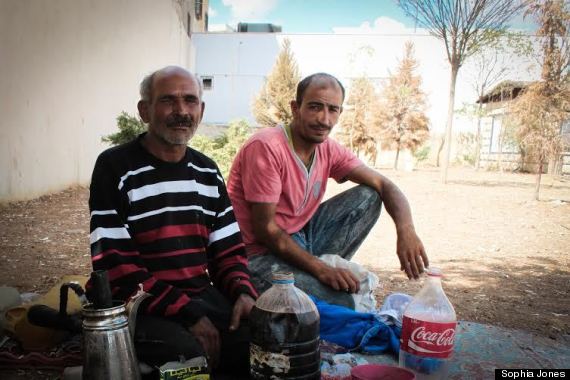 Syrian refugees sit outside of a bus station in Kilis, Turkey, where they now live.
A Syrian family that lives a few feet away collects plastic bottles and sells them. Another family boils gritty coffee in a rusting kettle and tries to sell it to travelers passing through. They all work together to stay alive, and sometimes to run from the police, who routinely pass through and force them to pack up and leave.
But the homeless families always come back, they say.
"How can I go home?" asked an elderly Syrian man who didn't give his name. The former shoemaker from Aleppo has been here for four months, living under the shade of a sparse bush outside of the bus station with his wife and children. After he paid smugglers $250 to take him and his family across the border to Turkey, he said, the smugglers stole the rest of his cash -- a common story among refugees smuggled here. Now, he is left with nothing.
"It's not just me," he said. "Look how many people are here. I watch them everyday."
He spends his days watching and waiting amid a flurry of travelers, wondering if he will someday soon be one of them. He said he doesn't know how long his family can last here. Soon, it will be winter.
"Turks tell me to go back to Syria," he said, palming a few pomegranate seeds. "But my house was destroyed. I don't have anywhere to go."
Alaa Aldeen contributed reporting from Kilis, Turkey.