They lost your luggage. Your plane was delayed. The flight crew spilled coffee on your brand-new Napwrap... whatever the scenario, it just feels good to air your airline grievances via Twitter.
Because apparently, telling the planet how your airline served cold lasagna suddenly makes everything better.
With high-level language processing, data analysts at Luminoso used tweets to track which airlines passengers love -- and which they love to hate. Their conclusions come from more than 150,000 tweets about five of the country's most recognized airlines. The airlines were ranked based on a "sentiment score," aka the overall passenger sentiment when all tweets, both positive and negative, were taken into account. Among the study's findings:
United and American Airlines are NOT popular with tweeting travelers -- these airlines trumped the others in almost every area of travel gripe. United received the most negative tweets from passengers about delays, luggage, charges and fees. American got hate for its seating and security.
Virgin America is a clear passenger favorite, winning out for positive tweets about customer service and overall customer happiness.
JetBlue didn't do too badly, either -- according to Twitter, passengers consider their entertainment options pretty prime.
See how your airline of choice stacks up below.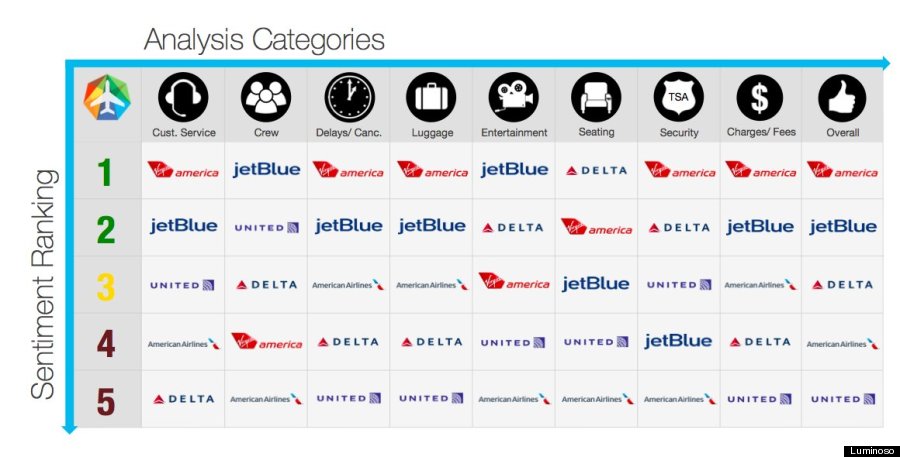 BEFORE YOU GO
PHOTO GALLERY
Best Airlines In North America 2014)