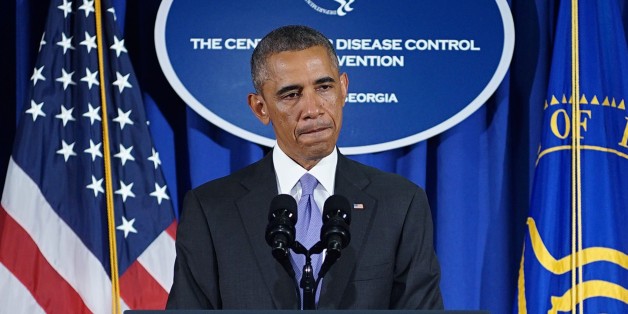 The Obama administration stepped up its efforts this week to help contain the Ebola crisis, but the president emphasized that the world won't be able to succeed without the significant contributions of nonprofit organizations.
Since this Ebola outbreak first struck Guinea in March, more than 2,400 people have died from the virus, according to the World Health Organization and it was quickly deemed the worst Ebola crisis in history. Yet support for aid organizations has only just begun to pick up and Obama admonished that the role of these groups cannot be underestimated.
"Charities and individual philanthropists have given generously, and they can make a big difference," Obama said during a visit to the Centers for Disease Control and Prevention (CDC) on Tuesday. "And so we're not restricting these efforts to governmental organizations; we also need NGOs and private philanthropies to work with us in a coordinated fashion in order to maximize the impact of our response."
The U.S. announced that it will be sending 3,000 military personnel to provide medical and logistical support to struggling local health care centers. The goal is to train 500 health care workers a week, establish 17 heath care facilities and dispense home health care kits to hundreds of thousands of households, among other initiatives, the Associated Press reported.
Liberian President Ellen Johnson Sirleaf said in a statement that she was relieved by the news and hopes other nations will follow suit, but Obama noted that this overwhelming mission cannot be completed by government alone.
"International organizations just have to move faster than they have up until this point," Obama said.
But a major issue for nonprofits working in the affected areas is that they simply don't have the resources to "move faster," people on the ground in West Africa say.
Doctors Without Borders, the only workforce with experience treating Ebola, is one such NGO that has been stretched beyond its means.
"We are overwhelmed," Dr. Joanne Liu, Doctors Without Borders international president, said in a statement. "We are honestly at a loss as to how a single, private NGO is providing the bulk of isolation units and beds."
These aid groups have been facing a lack of funding from the global community and a concerning dearth in healthcare workers.
As of Monday, documented pledges or donations to the Ebola effort totaled $326.7 million, according to data from the Financial Tracking Service, which is managed by the United Nations Office for the Coordination of Humanitarian Affairs. But more than 60 percent of those funds only first came in since the beginning of September, The Wall Street Journal reported.
Perhaps the more plaguing problem, however, is the lack of trained manpower available.
Raphael Frankfurter, executive director of Wellbody Alliance -- a group that provides free medical care in Sierra Leone -- told HuffPost Live that the "key gap" is in clinical health care workers.
He noted that there are isolation centers that, for days, will have just one doctor -- no nurse, no cleaner and no nursing aid -- on hand. Patients are often left alone at night because there aren't enough people to care for them.
As a result, the treatment workers who are available are often forced to work eight to 12 hour days in suffocating heat, all the while wearing cumbersome protective gear, The Washington Post reported.
"It's despair on all fronts," Lance Plyler, an American doctor working with aid organization Samaritan's Purse, told the paper. "It wears on you after a while ... It breaks some people."
Still, despite these hardships, Obama remains hopeful that with an effective global partnership between governments and NGOs, the crisis can be put under control.
"These men and women and children are just sitting, waiting to die, right now," the president said. "And it doesn't have to be this way."
Support UNICEF's efforts to combat Ebola through the fundraising widget below.
BEFORE YOU GO
PHOTO GALLERY
Liberia Battles Spreading Ebola Epidemic