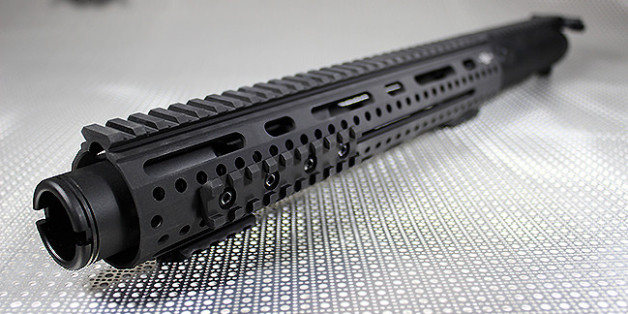 A California gun store is selling a rifle attachment named "Obama's Blaster" to mock the president's support for stricter gun control laws.
In a post on its website dripping with sarcasm, Ares Armor described the nearly foot-long upper portion of an AR-15 assault rifle as a way to thank President "Barrack" Obama for being "the firearms industry spokesman and salesmen of all time."
The jab references the surge in gun purchases that occurred after Obama and lawmakers pledged to crack down on firearm sales following the Sandy Hook gun massacre of 20 elementary school children and six adults in 2012. Nearly two years later, the gun run has only recently started to subside.
The post compares Obama to Marvin the Martian, a helmeted alien character from the Looney Tunes cartoon who is hellbent on destroying the Earth using an apocalyptic ray gun called the Illudium Q-36 Explosive Space Modulator. With Earth eliminated, Venus would be the consecutive planet to Marvin's home, Mars.
"Much like Marvin, Barry is believed to be an alien and also was in position of an Illudium Q-36 explosive space modulator," Ares Armor wrote, referencing Looney Tunes as well as the "birther" conspiracy theory that the president is a Kenyan immigrant. "Unfortunately for us, Barry believes that the United States is not only blocking his view of Venus, but is also blocking his social and political views with our pesky Constitution."
A minute-long video displays the features of "Obama's Blaster."

Ares CEO Dimitrios Karras told The Huffington Post that he was "the jerk who came up with it all." He began selling the item last month to drum up some attention for the store and tease friends who support the president's stance on gun control. Karras, 29, said the store has been flooded with threatening phone calls and messages.
A woman who called Ares Armor said she was reporting the business to the Secret Service.

"Apparently I'm a crazy redneck that's out in the middle of nowhere and I'm off my rocker and I never would have done this to insult President Bush," said Karras, noting that he voted for Obama in the 2012 election. "It's a joke, it's funny. People need to take it down a notch and take themselves a little less seriously -- not everyone out there is a crazy white racist."
So far, he said, the store has sold hundreds of Obama's Blasters, now discounted to $550 from $690.
The blurb on the barrel's product page continues with its puzzling Looney Tunes analogy, suggesting that Obama's Blaster could have prevented Bugs Bunny when he stopped Marvin from destroying the Earth.
"Luckily, after 2,000 years of research and when he was finally ready to use the Illudium Q-36 explosive space modulator to destroy the Constitution and the United States, Bugs Bunny saved the day and destroyed this device," reads the post. "If good ol' Barry had been in possession of a 'blaster' such as this, maybe things would have been different for Bugsy."
For good measure, the gun tacked on a parenthetical postscript to remind readers that "Barrack" -- yes, the store twice misspelled the president's first name -- doesn't actually endorse the product.
Karras, who served as a Marine in Afghanistan and Iraq, told HuffPost that he intentionally misspelled the name to be "semi-disrespectful."
"A lot of this stuff is literally meant to rile up my friends on the left side of the fence," Karras said.
The White House did not immediately return a call requesting comment Thursday morning.
This isn't the first time the gun industry has taken aim at Obama. Last year, California-based Zombie Industries was forced to pull a zombie target mannequin made to look like Obama from its booth at the National Rifle Association's convention in Houston. A paper target resembling the president, however, remains on sale for $50 per 100-pack.
(H/T: Talking Points Memo)