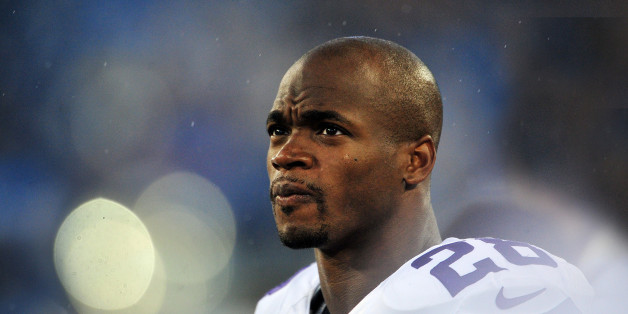 The vast majority of Americans think what NFL running back Adrian Peterson allegedly did to his 4-year-old son -- a spanking that left bruises and breaks in the skin -- should be illegal, a new HuffPost/YouGov poll found. But most still say spanking in general should be legal.
According to the poll, which was conducted after Peterson was indicted on charges of abuse, 81 percent of Americans think spanking with a hand should be legal. Only 9 percent think it should be illegal.
But even spanking with the hand goes too far, many experts say. Studies have shown a correlation between corporal punishment and negative behaviors like aggression and future criminal activities, as well as altered brain chemistry.
That's a connection most Americans have yet to be convinced of, the poll suggests. By a 49 percent to 32 percent margin, a plurality of Americans think corporal punishment can be an effective way of teaching right from wrong. Only 34 percent said corporal punishment is psychologically damaging, while 43 percent said it is not.
Spanking with the hand, however flawed, is where most Americans draw the line. By a 53 percent to 32 percent margin, most think that spanking with an item like a switch, belt or strap should be illegal. Seventy-five percent said spanking that leaves bruises should be illegal, while 86 percent said spanking that breaks the skin should be illegal. Peterson allegedly left cuts and bruises on his child's back, buttocks, legs and scrotum after hitting him with a switch, and photographs of the child show lacerations on his skin.
Some observers, including former NBA star Charles Barkley, have claimed that the way Peterson disciplined his child is common among African-American communities in the South. It's true that black respondents (61 percent) were much more likely than white respondents (29 percent) to say that spanking with a switch or belt should be legal. Southerners, too, were more likely to say punishment with a switch should be legal -- 44 percent compared to less than one-third of residents of any other region.
But only 8 percent of African-Americans and 12 percent of Southerners said spanking that leaves bruises should be legal, and only 5 percent of African-Americans and 5 percent of Southerners said the same of spanking that breaks the skin. On those questions, neither group differed much from other groups in the poll.
Personal experience, too, appeared to be linked to whether Americans supported spanking with an object. Forty percent of those whose parents used corporal punishment on them said spanking with a belt or switch should be legal, compared to only 11 percent of those whose parents did not.
But personal memories of spanking didn't leave Americans thinking that it was acceptable to hit a child so hard as to leave marks like those Peterson's beating allegedly left. Only 11 percent of those whose parents used corporal punishment said spanking should be legal if it leaves bruises, and only 4 percent said it should be legal if it breaks the skin.
Seventy-one percent of Americans in the new poll said their own parents used corporal punishment, while only 23 percent said their parents did not. The American Academy of Pediatrics "strongly opposes striking a child for any reason."
The HuffPost/YouGov poll was conducted Sept. 15-17 among 1,000 U.S. adults using a sample selected from YouGov's opt-in online panel to match the demographics and other characteristics of the adult U.S. population. Factors considered include age, race, gender, education, employment, income, marital status, number of children, voter registration, time and location of Internet access, interest in politics, religion and church attendance.
The Huffington Post has teamed up with YouGov to conduct daily opinion polls. You can learn more about this project and take part in YouGov's nationally representative opinion polling. Data from all HuffPost/YouGov polls can be found here.