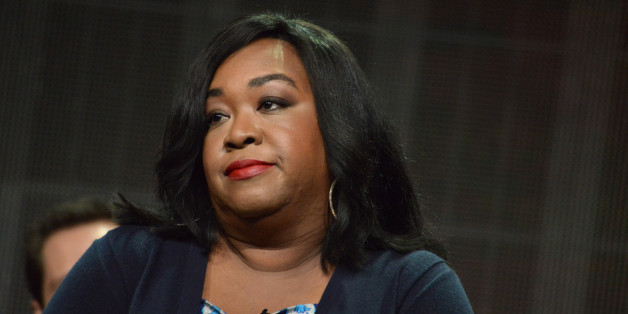 Shonda Rhimes, along with much of the Internet, wasn't too happy on Friday after New York Times television critic Alessandra Stanley wrote that the acclaimed producer should call her autobiography "How to Get Away With Being an Angry Black Woman." (Stanley's attempt at humor was a play on "How to Get Away With Murder," a new show on ABC that Rhimes executive produced but did not create.)
Stanley's piece went on to discuss Rhimes' supposed "set of heroines who flout ingrained television conventions and preconceived notions about the depiction of diversity" and other black women on television.
Needless to say, Rhimes wasn't too pleased with the piece and shared some of her thoughts over Twitter:
Wait. I'm" angry" AND a ROMANCE WRITER?!! I'm going to need to put down the internet and go dance this one out. Because ish is getting real.

— shonda rhimes (@shondarhimes) September 19, 2014
Joshua Malina of "Scandal" also chimed in:
Wow. Did I just read a @nytimes piece that reduced my brilliant, creative, compassionate, thoughtful, badass boss to an "angry black woman?"

— Joshua Malina (@JoshMalina) September 19, 2014
Meanwhile, Kerry Washington decided to share some of the many thinkpieces produced in response to Stanley's article:
Dear @nytimes

AND

You're welcome.

Love,
K-Dub

— kerry washington (@kerrywashington) September 19, 2014
The response wasn't limited to Rhimes' co-workers. "Rhimes is no more the 'angry black woman' than her characters," Slate critic Willa Paskin wrote in a piece published Friday, "who are angry the way that a bird is bipedal: It's not false, but it's not to the point." The critic went on break down Rhimes' female characters and praise how the creator has "re-framed the stereotype of the 'angry black woman'" by carving out a space for black females on television.
At Vox, Alex Abad-Santos called to light that Stanley constantly referred to Rhimes when discussing "HTGAWM" in her essay -- yet Rhimes isn't even the creator of the new series, she's one of the executive producers. "The piece refers to Rhimes 19 times and has only one mention of [Pete] Nowalk [creator of 'HTGAWM']," Abad-Santos wrote. Rhimes also found this puzzling:
Confused why @nytimes critic doesn't know identity of CREATOR of show she's reviewing. @petenowa did u know u were "an angry black woman"?

— shonda rhimes (@shondarhimes) September 19, 2014
Over at Vulture, Margaret Lyons called the New York Times piece "inaccurate, tone-deaf, muddled, and racist." Lyons noted a selection of obviously angry Rhimes characters (Mellie, Cyrus, etc.) who are white. Stanley failed to mention any of them. "What's the difference between a rant and a monologue? Sometimes just the race of the person delivering it," Lyons wrote. She ended her response piece by hypothetically assuming that even if Stanley's assessment were correct, there's still a flaw: "Is there anything in this article in particular that suggests any of these characters are based at all on Shonda Rhimes?," Lyons questioned. "There is not."
The takeaway from all this? Perhaps this: When writing about a beloved, powerful and successful producer, it may be best to not totally associate that person with their shows' characters, or more specifically, with characters of one race.
BEFORE YOU GO