There are certain men who understand the importance of good style. But for the vast majority, however, putting in tons of effort to look fashionable isn't exactly a top priority. Well, thanks to the Suitsy, those men no longer have an excuse.

The Suitsy is pretty much exactly what it sounds like: a one-piece suit. Thanks to a zipper and some fake sleeves, Suitsy enthusiasts are able to create the illusion that they are wearing an entire suit without the hassle of, you know, putting an outfit together. It's currently featured on BetaBrand, a website creator Jesse Herzog calls the "Kickstarter for clothes," where users can vote the creation into production.
HuffPost Style chatted with Herzog about the inspiration for the suit and, of course, the whole matter of going to the bathroom.
On what inspired the Suitsy:
"I wanted something that was professional-looking, but more comfortable. I have this extremely comfortable suit that I wear in the summer and I kind of felt like I could make it one step easier by just connecting everything."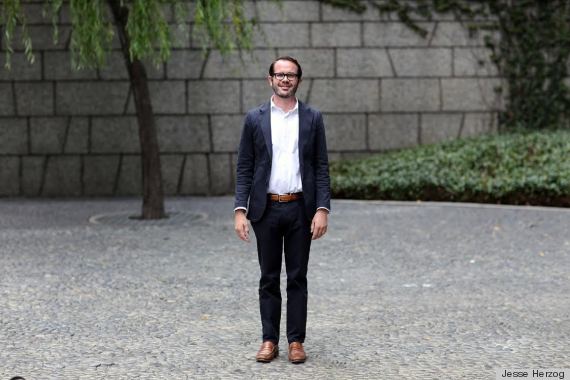 Suitsy creator Jesse Herzog, wearing a Suitsy.
On how to care for a Suitsy:
"It's made of all cotton. The pants and jacket are heavier to give it a little structure, and the shirt is a standard cotton material. I would just take it to the dry cleaner. My hope is to at some point refine it with a stain-free and wrinkle-resistant fabric."
On the biggest advantage the Suitsy has over a traditional suit:
"Comfort. That's the best thing. Everyone who sees me wearing it thinks I'm in a normal suit but to me it feels way more comfortable than that.
On how the ladies feel about it:
"Ladies LOVE it. They all want me to make a female version, but that's not fair because women already have onesies!"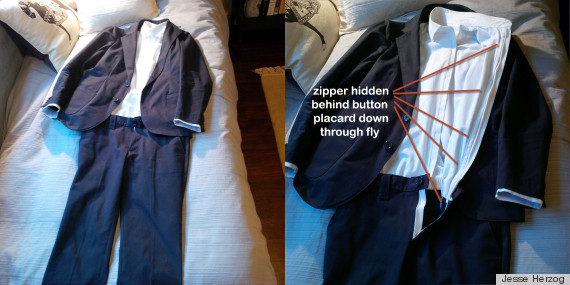 On the future of Suitsy:
We've talked about the potential to add booties that are already connected. If you really want to class it up you'll just clip on a bow-tie and you're ready to rock. You could sleep in it! You can do anything in it.
On whether or not the Suitsy is "fashionable:"
"Some people are like, 'This is so anti-fashion. This is a testament to how little people care.' My point is that for guys that don't care, maybe this will encourage them to try to look a little bit more presentable because it makes achieving that so much easier."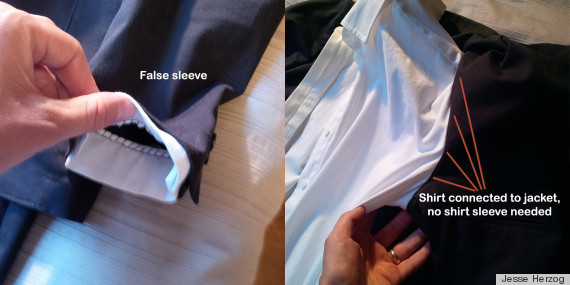 And of course, the answer to our burning question: what about using the bathroom?
"Jumpsuits have been around forever -- mechanics wear them; pilots wear them. I have found it surprisingly easy to... execute."
The Suitsy still needs more votes to go into production, but you can learn about it here.
BEFORE YOU GO
PHOTO GALLERY
Weird Products For Women