Nawan remembers how powerful a simple gesture can be. As a barber forced to leave his home country of Syria due to civil war and benefiting from the generosity of strangers in the process, the 20-year-old said he now wants to be the one helping those in similar circumstances.
That's why he -- along with five other young Syrian refugees -- helped set up an impromptu barbershop in Iraq's Badjet-Kandela camp, where several Iraqi IDPs (internally displaced persons) took advantage of their free services, Liene Veide, a public information officer for the UN Refugee Agency (UNHCR), wrote in a story she shared with The Huffington Post.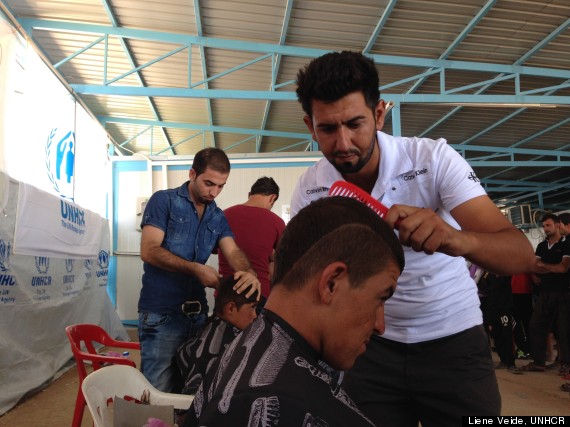 Photos courtesy of Liene Veide, UNHCR.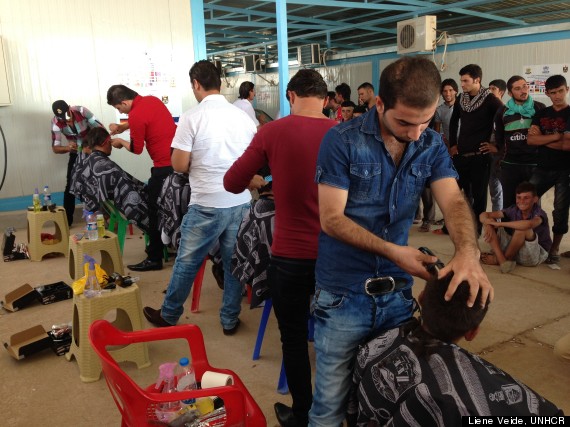 The six Syrians traveled from their temporary homes at the Domiz refugee camp to provide services to some of the approximate 16,000 displaced Iraqis in Badjet-Kandela.
"I wanted to be one of those supporting displaced people of Iraq, and barbering is something I know how to do," Nawan said, according to Veide. "Once I reached the Kurdistan region, local authorities and many organizations were assisting me and other refugees. Now that I can support myself, I can help others."
A startling number of people have been uprooted by civil violence in Iraq. According to the United Nations, an estimated 1.8 million Iraqis have been displaced since January due to growing influence from the Islamic State militant group, RIA Novosti reported. And turmoil in neighboring Syria is not helping to stabilize the region. Syrians forced to leave their homes seeking safety in Iraq -- like Nawan and his fellow barbers -- add pressure to an already unstable infrastructure trying to provide basic needs to its displaced citizens.
Even while facing their own struggles in the face of war, however, Nawan and his five peers have chosen to help others.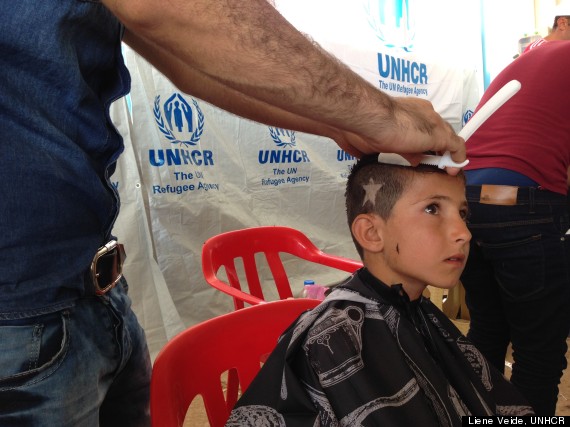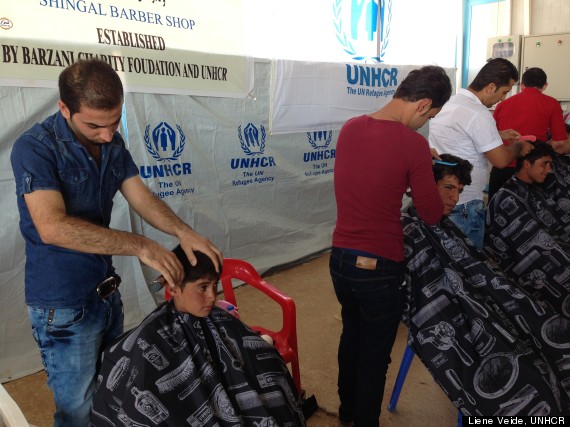 Rozhan Muhsen, a community services team member at UNHCR, came up with the idea for the pop-up barbershop -- which provided haircuts to 122 people in just four hours -- after seeing the need in many displaced Iraqis.
"Many of those people stayed up in the mountains for 15 days or more, and when they arrived in camp, had no way to cut their hair," Muhsen said, according to Veide, noting she believed the haircuts could help "boost their mood."
Those getting serviced at the barbershop weren't the only ones benefiting from the experience, either: the six Syrian refugees are considering turning their volunteerism into a small business, Veide told HuffPost.
To support UNHCR's efforts helping refugees around the world, visit the organization's website.
BEFORE YOU GO
PHOTO GALLERY
Iraq refugees