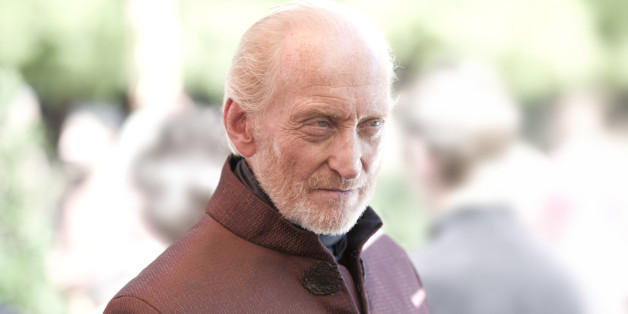 In the Season 4 finale of "Game of Thrones" -- obviously, major spoiler alert -- Tywin Lannister's life was finally taken by Tyrion in the best (but definitely most embarrassing) way possible. Shot in the chest by a crossbow bolt while sitting on the toilet, Tywin died and we all thought we had seen the last of him.
Now, however, it sounds like Tywin might not be gone for good. While promoting his new movie "Dracula Untold," Charles Dance told MTV that he's "not completely missing out on" Season 5. Wait, what?! "You haven't seen the last of Tywin Lannister," Dance teased.
This could mean a handful of things, as Winter Is Coming has pointed out. Dance could either return as Tywin's corpse (but how boring is that?), as a vessel used by another force, à la Khal Drogo's return, or in a flashback. If "GoT" does decide to use flashbacks in the series, fans will definitely be demanding more of other deceased characters, especially Sean Bean. There was also a rumor that a Season 5 scene may include a flashback to Young Cersei.
HBO declined to comment on Dance's rumored return to HuffPost TV. In the meantime, check out MTV's interview with Dance below, and continue being sad that Bran and Hodor may not return for Season 5. (If we get Tywin, can't we at least get some Hodor?)
[via MTV]



BEFORE YOU GO
PHOTO GALLERY
"Game Of Thrones"