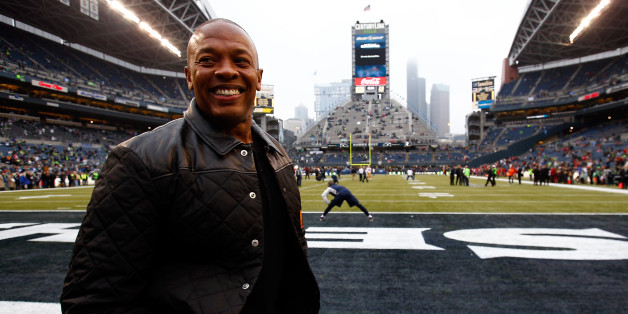 In 2013, Diddy topped Forbes' list of highest paid hip-hop acts with $50 million, leading Dr. Dre, who landed in third, by $10 million. But after Apple dished out $3 billion to purchase Beats, Diddy has been unseated as Dre rocketed to the top of this year's hip-hop cash kings with an incredible total of $620 million (it will take a little more time for him to hit nine figures). It's so much money that Dre's income exceeds the total sum of all earnings for the 24 others on this year's list.
"It's safe to say headphones is a good business," DJ Khaled said in a video announcing the top five on Forbes' list.
Following Dre is a tie for second place between Diddy and Jay Z, each earning $60 million. In fourth place, Drake raked in $33 million, an impressive leap from his 11th spot in 2013. In fifth place, Macklemore & Ryan Lewis garnered a cool $32 million, jumping ahead 10 spots and more than tripling their earnings since 2013. Here are 2014's top 10:
1. Dr. Dre – $620 million
2. Jay Z – $60 million
2. Diddy – $60 million
4. Drake – $33 million
5. Macklemore & Ryan Lewis – $32 million
6. Kanye West – $30 million
7. Birdman – $24 million
8. Lil Wayne – $23 million
9. Pharrell Williams – $22 million
10. Eminem – $18 million
For the full list and more information about the Hip-Hop Cash Kings of 2014, head over to Forbes.
BEFORE YOU GO
PHOTO GALLERY
Forbes 30 under 30 2014