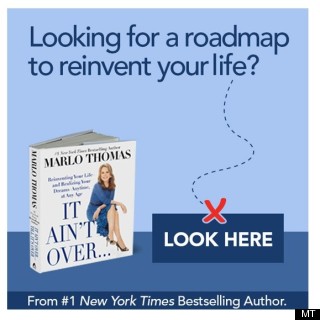 "One of the reasons I started my website is that I wanted a place for women to come together and dream. We women need to know that we don't have to hang on to an old dream that has stopped nurturing us—that there is always time to start a new dream. This week's story is about a former gymnast and mother of two who was working on her bucket list...and found a new passion along the way." —Marlo, MarloThomas.com

By Lori Weiss
From the age of twelve, Kelly Wain was the one to watch. She was an up and coming star on the gymnastics circuit and like any little girl with big dreams, she set her sights on the Olympics. And her parents were right there with her, not only cheering her on, but driving across state lines for her to train with the very best coaches.
"At my peak, I was training 7 days a week for 4 hours a night," Kelly recalled. "It was everything to me. But I came to it later than most kids, so I had to log a lot of hours to overcome the fear of trying new things. When you're little, you trust when someone says, just do it. When you're 13, you know it's probably going to hurt if you fall."
To get beyond that fear, Kelly pushed herself to learn advanced routines. She would find herself doing dozens of repetitions in a single night, putting more and more stress on her body, so she could feel confident enough to compete with the younger girls.
But by 14, that stress was beginning to slow her down. She started having problems with her back -- pain so significant, that it would bring the young athlete to the floor. Yet Kelly refused to slow down -- breaking every record at her high school and competing at invitationals around the country.
Unfortunately, that will to win, would be what would eventually shatter her dreams. While she continued to compete at the college level, there came a point where the pain she was experiencing forced her off the mat and onto the sidelines.
"A doctor asked me whether I wanted to have kids some day," Kelly said softly. "He told me if I caused any more damage to my back, that I could be in pain for the rest of my life and it could become really hard for me to carry children. He told me that if I wanted to have a family, I had to let my body heal."
"I remember the day I made the decision to stop. It was really emotional. I went my whole life wanting to achieve something and I realized I wasn't going to get there. And I thought, What am I going to do now? I felt really lost."
Article Continues Below Slideshow
But Kelly did what she had learned to do during all her years of training. She set new goals and she strived for them. She went on to build a career in marketing, to get married and to have two beautiful children.
"I kept setting new goals to replace what I'd given up," she explained. "And I felt complete -- as a wife, as a mom, as a professional -- but never as a gymnast. I didn't feel like I could ever feel complete in the same way as I did when I was competing. Yet I didn't want to put myself in a situation where I might get injured again. Once I became a mom, I gave up everything else. I wanted to be able to run after a soccer ball and ski with my kids. So I figured that's life. When you're done, you're done."
It would take a life changing event for Kelly to realize that she was far from done. Her own mother, her biggest cheerleader, went down for a fall. And that's when Kelly realized it was time to pick herself up again.
"My mother was diagnosed with breast cancer. I watched her fight it and win and then go through a second bout with it. But she refused to lose. She battled her way back and I saw her change the way she lived. My parents began to spend more time with friends and to travel. I remember my mother saying, 'Kelly, having a serious illness was the most eye-opening thing I've ever experienced. I need to do the things I want to do.'"
"It made me think, Are you supposed to wait until your kids are grown up? Is that when I'll have a chance to try some new things? It's not that I was disappointed in my life. Not at all. I love being a mom. But life had become very routine."
Inspired by her mother's renewed passion for life, Kelly decided to write out a list of all the things she thought she'd like to do someday. She knew there were some that would have to wait. But others, like learning photography, seemed harmless enough. Until, of course, her husband, Doug, planned a tenth anniversary trip to Alaska and convinced her it was time to tackle the second thing on the list -- photographing a grizzly bear -- up close.
"Doug said, 'If we're going all the way to Alaska, it's on the list, let's get it done.' We had to get to this remote location by helicopter and Doug hates helicopters, so you know he did this just for me! We went out on a boat with a guide and the bears are right in the water with you. Brown bears aren't interested in you, unless you're stealing their food and the guides teach you what not to do. Taking those photographs was the most amazing high and when my husband turned to me and said, 'You can cross that off the list now', tears were streaming down my face."
"After that," Kelly continued, "Doug would always joke about the bucket list. And we'd add things to it -- a lot of things that we wanted to do as a family, like hike into the Grand Canyon with the kids. Then one day, when we were watching Dancing With The Stars, I told him I'd like to learn to ballroom dance. Doug said, 'We're not putting that on OUR list. You can put that one on yours!'"
So Kelly did. And then she walked into a dance studio a week before Christmas and told the instructor she wanted to be ready to compete by February.
"A bucket list is all about doing things, crossing them off and moving on. So that's all I wanted to do. I wanted someone to make me feel pretty. I wanted to feel like a princess and dance in one competition."
"So my instructor, Theo Martinez, began teaching me beginner level routines and I started shopping for a dress. But then I started thinking about the judges and all the butterflies I had when I was 12 came back. It was nerve-wracking. I thought, All these girls on the floor are going to be young and pretty. What place do I have doing this? What happens if I lose? What if I'm not good? I couldn't even think what might happen if I had a good time and had one more thing I could cross off the list."
Despite all the fears that came flooding back from the days she competed as a gymnast, two months later, Kelly was out on the dance floor. She entered as a "Newcomer" at the Eastern US Dance Sport Championships, and Theo was right there with her -- ready to guide her across the dance floor -- not once, not twice, but over a period of two days, forty times.
"I raised my chin and smiled really big," Kelly laughed, "and I just kept thinking, I'm crossing another thing off my list. But I did wonder how the judges were even going to see me. We were dancing with six other couples. In gymnastics, I was the only one they were watching."
But somehow the judges managed, and when it was time to announce the winners, Kelly was as nervous as she had been back in high school.
"You get awarded for each dance at the end of the entire competition. The first time I heard them call my name, I thought, Look, I won! But then they kept saying my name and I thought, Holy crap. I won again! I won again!"
Kelly won each and every entry. 40 dances. 40 wins. Suddenly ballroom dancing was no longer just something on a bucket list. That day Kelly began to feel complete again.
It's been three years since that whirlwind weekend and since then, Kelly has gone on to compete at higher and higher levels. Within a year, she moved up the ranks and became good enough to dance in Bronze, Silver and Gold competitions. Now she's training to compete professionally.
"In my day to day life, I'm the Ivory soap girl," Kelly said with a smile. "But when I'm getting ready to go out on that dance floor, with my hair and make-up done, and wearing a dress covered in Swarovski crystals, sometimes I stop and take two minutes to look in the mirror and I say, 'Damn! Go make it happen girl!' For that one night, I feel like a rock star. And then I scrub off the make-up and I'm ready to go home to my amazing family.'"
"If I could encapsulate everything that has happened to me in the last three years and bottle it up and sell it, I know I'd be a millionaire. My whole life was wrapped up in not feeling good enough. Dancing has shown me, that just because you fall down, that doesn't mean you have to stay there. Brush off the dust and keep going. Give yourself a chance to see how amazing you can feel again."