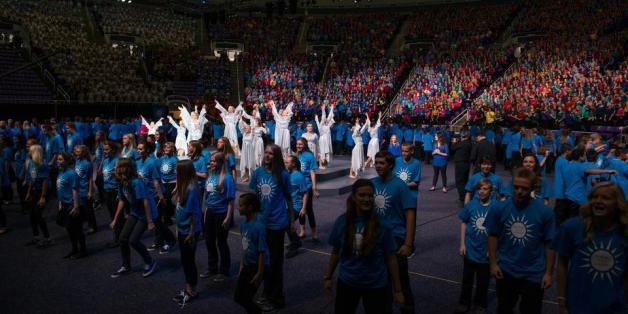 About 16,000 young members of The Church of Jesus Christ of Latter-day Saints flocked to a cultural center to celebrate the rededication of the Ogden Utah Temple.
The youth, aged 12 to 18, showcased the history of Mormon settlement in northern Utah with much pomp and pageantry, waving flags and dancing in colorful period costumes.
Participants carried a traveling lantern from scene to scene to symbolize the light of the church in Ogden. The city traces its roots back to LDS leader Brigham Young, who in 1847 directed the purchase of 210 square miles of Utah land for $1,950, intending to create a Mormon settlement.
During the show, the youth honored the city's Native American heritage and one of its first settlers, Peter Skeen Ogden.
"I could really feel the spirit in the room and loved being a part of it," said Robbie Maloy, a 13-year-old who traveled in from Clinton, Utah.
Event organizers had originally planned to have just one performance to accompany the opening of the renovated temple. But after receiving an overwhelming number of requests from the area's youth, they decided to split the performance in two.
Even so, it took the youth three months of practice to pull off the elaborate performance.
Elder Jeffrey R. Holland of the Quorum of the Twelve Apostles told the youth that they "are the hope of Israel."
"Your collective light can change a darkened world," he said, according to the Deseret News.
The temple was originally dedicated in 1972, the LDS church reports. It was closed for four years as workers completely reshaped its exterior, interior and grounds, adding new glass art and stonework. The entrance was moved from the west side to the east side, so that its doors could face one of the city's main streets.
The building officially opened as a place of worship on Sunday, after three separate rededication services.
The Ogden Temple is now the 14th operating temple in the state of Utah. It's the 143rd LDS temple in the world, KSL reports.
BEFORE YOU GO
PHOTO GALLERY
Ogden Utah Temple Dedication